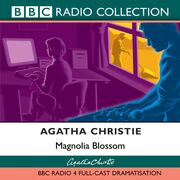 Magnolia Blossom is an adaptation of the short story by Agatha Christie. It was dramatised by Mike Walker and directed by Ned Chaillet. It was broadcast by BBC Radio 4 - 04.02.2002 - 30mins
A woman's place in Agatha Christie's short story Magnolia Blossom is defiantly not in the luxury home created for her by her financier husband. But in times of trouble a woman's loyalty can challenge the presumption of men - and infidelity can be a small crime compared to others. Emilia Fox takes the role of Theo, a woman determined to seek happiness with her husband's rival, Vincent. As they escape London to be together in Paris, news comes of the financial collapse of her husband's business. Putting her own desires aside, Theo returns to discover that Richard has been less than honest with her, and that more than his job is at stake.
Community content is available under
CC-BY-SA
unless otherwise noted.