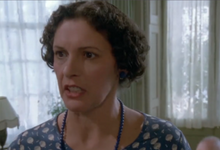 In the novel The Murder on the Links, Madame Daubreuil (real name Madame Jeanne Beroldy) was Paul Renauld's neighbour and blackmailer. Involved in plotting the murder of her husband 22 years ago, but escaped justice when exposed. She is the mother of Marthe. Jeanne Beroldy had manipulated Paul Renauld into killing her husband later getting acquitted.
Mme Daubreuil was exposed for her crimes but was able to flee and avoid capture once again.
Portrayals
In "Murder on the Links" (Agatha Christie's Poirot), she was given a name. Here she was called Bernadette Daubreuil. She was portrayed by Kate Fahy. Here she doesn't avoid being caught but was arrested.