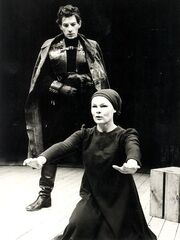 The Tragedy of Macbeth (commonly called Macbeth) is a play by William Shakespeare.
References to Macbeth in the works by Agatha Christie
It is referenced in the title of the novel By the Pricking of My Thumbs. The passage used is:
By the pricking of my thumbs,
Something wicked this way comes
In the novel The Pale Horse, Mark Easterbrook and Hermia Redcliffe leaves the Old Viv having seen the play. Mark's friend David Ardingley says that if he was to cast the witches, he wold make them ordinary old women.
In Nemesis, Miss Marple expresses the same idea as David Ardingly.
In Hercule Poirot's Christmas one of the suspects quotes the play, upon seeing the dead body of Simeon Lee:
Who would have thought the old man to have had so much blood in him?
In Cat Among the Pigeons, Julia Upjohn gets an assignment to write a composition on the subject "Contrast the Attitudes of Macbeth and Lady Macbeth to Murder".