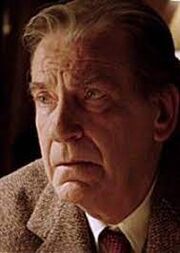 In the novel 4.50 from Paddington, Luther Crackenthorpe is the widowed patriarch of the Crackenthorpe family during the events in the novel.
Luther is a big, gaunt man, with flesh that hangs in loose folds. His face is "rather like a bulldog, with a pugnacious chin". He has "thick dark hair flecked with grey, and small suspicious eyes".
He is seventy-two years old. He claims to be an invalid, although Dr Quimper says that there is nothing really wrong with him. He has odd rheumatic twinges, which he calls arthritis, and palpitations after meals, which he puts down to "heart".
Luther's father, Josiah Crackenthorpe, gave his sons an Oxford education, and brought them up to be gentlemen. However, he was disappointed when neither of them wanted to go into the family business. Luther's brother, Henry, married an actress, and died in a car accident. Luther travelled a lot, and bought many art pieces, which he had sent to Rutherford Hall.
After Josiah died in 1928, Luther and his family moved to Rutherford Hall. By that time, his children were quite grown up.
Luther is known locally to be somewhat of a miser. His daughter, Emma, says that he is very keen on economy, and he himself says that punctuality and economy are his watchwords. He was not so close with his money when he was a young man, but became more miserly from middle-age onwards. He complains that his family is eating him "out of house and home", and that they never offer to pay for what they eat. He was also reluctant to buy Hillman, the gardener, a motor mower, initially wanting him to mow the front grass by hand. Hillman says that Luther does not care about maintaining the property well, or repairing it so that it can be used profitably, as he just cares about saving.
Because Josiah disliked Luther and was disappointed in him, he left his fortune in trust for his grandchildren. Luther was to receive the income for his lifetime, but had no power of appointment of capital. The capital was to be divided between Luther's children when he died, and the eldest son or his issue would inherit the house.
Dr Morris, who used to attend the Crackenthorpe family, thought that Luther had never felt adequate as a man, because his father was disappointed in him. This, together with resentment of his financial position, may have caused him to dislike his own sons, and to become so keen on saving money.
At Christmas time, Luther suffered a gastric attack, which puzzled Dr Quimper. Dr Quimper asked a ot of questions about what Luther ate and who prepared the food. There were certain indications that were more consistent with arsenic poisoning than gastro-enteritis. However, Luther said that he had experienced similar attacks before, and always when there was a lot of rich food. Dr Quimper wrote to Dr Morris to ask about these attacks. Dr Morris had treated Luther for gastric attacks in the past, and thought Dr Quimper was foolish to suspect anything else.
Luther takes an interest in Lucy Eyelesbarrow, showing her his geological specimens, and a genealogical tree, which shows that his mother's family was descended from kings. He also shows her gold coins which he had collected a long time ago, and had stored in preparation for the future. He tells her that no one knows about these things, not even Emma, and that it is to be their secret. He also tells her not to throw herself away on a young man, and that she wants someone who can take care of her future. Lucy is not sure whether this is a conditional proposal of marriage or not.
Later in the novel, Luther is taken ill, along with the rest of the Crackenthorpe family. According to Lucy, his illness is the most serious, and Dr Quimper worked like a maniac on him. However, Luther recovers, and even refuses to eat the beef tea and baked custard that Lucy brings him, insisting that he wants a beef steak instead.
Offspring
Portrayals
In MGM's 1961 adaptation Murder, She Said, the whole family is renamed "Ackenthorpe". The part of Luther is played by James Robertson Justice. Like the portrayal in the novel, he is a grumpy, invalid whole is wheeled around by the gardener Hillman. Hillman also helps him sneak in occasional shots of stiff drinks. At the end of the show he makes the surprising move of asking Miss Marple to marry him.
In BBC's 1987 adaptation of 4.50 from Paddington, the part of Luther Crackenthorpe is played by Maurice Denham who appeared as Parker Pyne in several other productions. Like in the original, he is also a miserly, grumpy invalid. Here, Miss Marple reveals at the end that his supposed state of poor health could be due to Dr Quimper. He would be much better from then on without the doctor telling him how sick he is. Miss Marple encourages him to do all the things the doctor had asked him not to do.
In ITV's 2004 adaptation of 4.50 from Paddington, the part of Luther is played by David Warner. Here he is not as grumpy or sick as in other adaptations. He is able to move around and spends much time in his hobby of history--he was interested in Lucy's family name, thinking that she might have Anglo-Saxon ancestors. He liked Lucy and invited her to join the family at dinner. The crazy will is the result of a falling out between him and his father. He had refused to join his father in the family confectionery firm. Instead, he had buried himself in his books and pursued a liberal education which his father despised. Along this theme, it seems Luther was rather pleased that Cedric Crackenthorpe became an artist. Cedric said, near the end of the show, that his father is heartbroken because he had to give up his unsuccessful career as an artist and become a civil servant. In this adaptation, Luther was close to his wife Agnes Crackenthorpe and were very happy together even though they had little money because of the will. Agnes understood his reasons and supported him when he stood up to his father. Luther's happy marriage was something his son Harold always envied.
In NHK's anime adaptation 4:50 from Paddington, the portrayal of Luther is close to the original. The voice actor behind the character is not credited.