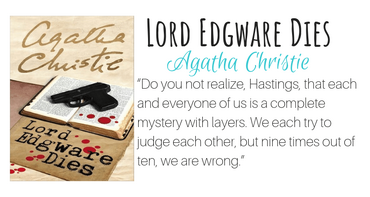 In the novel Lord Edgware Dies, George Alfred St Vincent Marsh, 4th Baron Edgware AKA Lord Edgware was an English aristocrat and the husband of Jane Wilkinson, an American actress.
He is found murdered in the library of his home, having been stabbed in the back of the neck.
He was a middle-aged man, of about fifty, with dark hair that had grey streaks. He was tall, and had a thin face.
He was described by his wife as "a queer man", and stated himself that his taste was peculiar, and that he enjoyed the macabre.