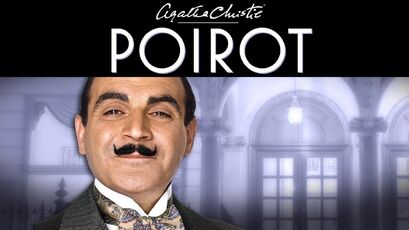 The following is a list of episodes for the British crime drama Agatha Christie's Poirot. It first aired on 8 January 1989 and all episodes have aired on ITV (ITV1 from 2001-2013, STV and UTV).
Episodes run for either approximately 50 minutes, or approximately 100 minutes (the latter are marked "feature-length" in the table below). The shorter episodes are based on Christie's short stories featuring Poirot, many published in the 1920s. The TV adaptations were considerably embellished from the original stories' plots and were set in 1936 instead of the 1920s et al. as is shown by the inclusion of actual historical events such as Fred Perry's win at the French Open and the Jarrow March.
The longer episodes are based on Christie's novels. The chronology differs significantly from that of the novels and, as with the shorter episodes, all the stories whose book versions were set in other decades are moved to in or around the year 1936. "The Mysterious Affair at Styles" (Christie's first Poirot novel) is taken outside the established series narrative, set back in 1917 (although the novel was set in 1916). It deals with the detective's first mystery in England. "The Adventure of the Clapham Cook", "How Does Your Garden Grow?" and "Death in the Clouds" were all moved back to 1935. "Death in the Clouds" and "Sad Cypress" are moved forward to 1937. "Murder on the Orient Express" and "Elephants Can Remember" move the narrative forward to 1938, just before the outbreak of the Second World War. "Curtain" is also moved forward to 1949, after the end of the Second World War.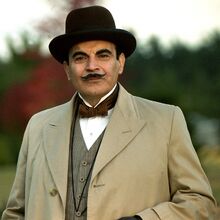 Another episode, "The Chocolate Box", in which Poirot recalls a case from his early career in the Belgian police force, also includes numerous flashbacks from the early 1900s with a younger-looking Poirot. "Five Little Pigs" has many flashbacks to the 1920s, but none of the detectives appear in them. The episode "Hickory Dickory Dock" has a flashback to 10 years earlier in 1926, where Japp appears, investigating a murder. "The Yellow Iris" has flashbacks to 1934, in Buenos Aires, Argentina where Poirot appears on holiday. "Hercule Poirot's Christmas" has a flashback to 1896, which later has a bearing on the case.
Regular Cast
Series 1 (1989)
No.
Image
Title
Writer
Director
UK airdate
1
"The Adventure of the Clapham Cook"
Clive Exton
Edward Bennett
8 January 1989
Mrs Todd prods Poirot into investigating the disappearance of her cook, Miss Eliza Dunn. The Detective is reluctant at first, as he views the case is beneath his dignity, but eventually accepts.
2
"Murder in the Mews"
Clive Exton
Edward Bennett
15 January 1989
"A good night for a murder," says Hastings while he, Inspector Japp and Poirot are enjoying the festivities of Guy Fawkes night. For no one would hear a shot among fireworks. And so it proved, when a young woman named Barbara Allen is found dead in the neighbourhood.
3
"The Adventure of Johnnie Waverly"
Clive Exton
Renny Rye
22 January 1989
Country squire Marcus Waverly and his wife Ada ask Poirot to help before their son Johnnie is kidnapped. Surprisingly, the kidnappers had sent a note beforehand stating the exact time the kidnapping was to take place.
4
"Four and Twenty Blackbirds"
Russell Murray
Renny Rye
29 January 1989
Henry Gascoigne, an elderly man and a regular at the Bishop's Chophouse restaurant, deviates from his usual eating habits. When he is later found dead, Poirot is curious and decides to investigate.
5
"The Third Floor Flat"
Michael Baker
Edward Bennett
5 February 1989
Young people return from a night out, but they have to use the coal lift because they have lost the keys to the apartment. Accidentally disembarking on the wrong floor, they find that the new occupant, Mrs Ernestine Grant, has been murdered. Poirot swiftly starts investigating, as the murder took place two floors above his own flat.
6
"Triangle at Rhodes"
Stephen Wakelam
Renny Rye
12 February 1989
Poirot is enjoying his holiday in Rhodes, but human drama never seems to be too far away. Three of his fellow guests, Tony Chantry, Douglas Gold and Valentine Chantry, seem to be locked in a tumultuous love triangle – and the Detective rightly senses its destructive potential.
7
"Problem at Sea"
Clive Exton
Renny Rye
19 February 1989
Poirot and Hastings embark on a cruise ship to Egypt. While the ship is docked at Alexandria, Adeline Clapperton, a woman disliked by all abord, is found dead in her cabin – which is locked from the inside.
8
"The Incredible Theft"
Clive Exton
David Reid
26 February 1989
Poirot is invited at a dinner party thrown by the Mayfields, as Mrs Mayfield fears her husband might become indiscreet in the presence of Mrs Vanderlyn, a suspected foreign spy he had invited. Indeed, after the party, the plans for the revolutionary "Mayfield Kestrel" plane go missing.
9
"The King of Clubs"
Michael Baker
Renny Rye
12 March 1989
Poirot and Hastings investigate the death of film studio owner Henry Reedburn at the request of Prince Paul of Maurania who wishes to marry the film star Valerie Saintclair. The actress is a possible suspect since it is she who found the body.
10
"The Dream"
Clive Exton
Edward Bennett
19 March 1989
Benedict Farley, the rich and eccentric owner of a pie factory, consults Poirot about a troubling dream he keeps having in which he commits suicide. Later, he is indeed found dead, precisely in the fashion he had described.
Series 2 (1990)
No.
Image
Title
Writer
Director
UK airdate
1
"Peril at End House"
(feature-length)
Clive Exton
Renny Rye
7 January 1990
Poirot and Hastings are holidaying when they meet Nick Buckley, a young girl who casually mentions that in the last days, she has at least thrice escaped certain death. Poirot suspects that somebody is out to get her, and his suspicions prove true when murder occurs.
2
"The Veiled Lady"
Clive Exton
Edward Bennett
14 January 1990
Poirot is approached by a heavily veiled woman, Lady Millicent Castle Vaughan. She asks him to discreetly help deal with a blackmailer who has stolen her love letters that could imperil her engagement to the Duke of Southshire.
3
"The Lost Mine"
Michael Baker and David Renwick
Edward Bennett
21 January 1990
The director of Poirot's bank, Lord Pearson, consults the Detective after the disappearance of Mr Wu Ling who was to sell the bank a map leading to a Burmese mine abundant with silver.
4
"The Cornish Mystery"
Clive Exton
Edward Bennett
28 January 1990
An ordinary middle-aged woman, Mrs Pengelley, visits Poirot and tells him of her horrid suspicion: her husband is trying to poison her. Poirot believes her and travels with Hastings to her Cornish hometown – but they arrive only hours after her sudden death.
5
"The Disappearance of Mr Davenheim"
David Renwick
Andrew Grieve
4 February 1990
A well-known banker, Mr Davenheim, has disappeared. For Poirot, this is a case to be solved not so much by clues as with "the little grey cells", as he is confined to his flat.
6
"Double Sin"
Clive Exton
Richard Spence
11 February 1990
A dissatisfied Poirot takes Hastings on holiday to Devon. On a bus trip in the area, they get acquainted with Mary Durrant, an antique dealer whose set of valuable miniatures promptly gets stolen.
7
"The Adventure of the Cheap Flat"
Russell Murray
Richard Spence
18 February 1990
Poirot and Hastings meet a couple at a party who have just rented a flat in a fashionable district for an implausibly cheap price. The Detective is intrigued and sets out to investigate.
8
"The Kidnapped Prime Minister"
Clive Exton
Andrew Grieve
25 February 1990
Poirot is summoned by the Foreign Office. The Prime Minister has been kidnapped and the Detective has 32 and a quarter hours to find him – otherwise he will miss an important international arms summit with the objective of stopping Germany from further rearmament.
9
"The Adventure of the Western Star"
Clive Exton
Richard Spence
4 March 1990
The famous Belgian film star Marie Marvelle consults Poirot (who is a great admirer of hers) about a series of letters threatening that her celebrated diamond 'The Western Star' will soon be stolen.
Series 3 (1991)
No.
Image
Title
Writer
Director
UK airdate
1
"The Mysterious Affair at Styles"
(feature-length)
Clive Exton
Ross Devenish
16 September 1990
After WWI, Captain Hastings is invited to Styles Court, where he meets his old friend Poirot again. Together, they investigate a mysterious murder by poison.
2
"How Does Your Garden Grow?"
Andrew Marshall (Screenwriter)
Brian Farnham
6 January 1991
At a flower show, Poirot is approached by an mysterious woman in a wheelchair. She gives him an empty seed packet in which the Detective finds a letter asking him to call on the lady, Mrs Amelia Barrowby. Poirot arrives too late – Mrs Barrowby has been murdered with poison.
3
"The Million Dollar Bond Robbery"
Anthony Horowitz
Andrew Grieve
13 January 1991
After a bank clerc charged with overseeing a million dollars' worth of American bonds is poisoned, the bank calls in Poirot. They ask him to safeguard the shipment by travelling with it on the ship to New York and keeping an eye on Mr Ridgeway, who is next in line to carry the bonds.
4
"The Plymouth Express"
Rod Beacham
Andrew Piddington
20 January 1991
Australian mining entrepreneur Gordon Halliday hires Poirot to look into the activities of one of his daughter's suitors. His daughter is later found brutally murdered aboard the express train to Plymouth, some valuable jewels of hers missing.
5
"Wasps' Nest"
David Renwick
Brian Farnham
27 January 1991
Poirot runs into his old friend John Harrison at a village fete, and upon being introduced to his fiancée and his other friend, he and Hastings set out to prevent a murder.
6
"The Tragedy at Marsdon Manor"
David Renwick
Renny Rye
3 February 1991
Poirot and Hastings travel to Marsdon Leigh in response to a letter about an insoluble murder. When they get there, they discover that the letter only concerned a matter of fiction; soon after, however, a man is found dead on the grounds of the allegedly haunted estate.
7
"The Double Clue"
Anthony Horowitz
Andrew Piddington
10 February 1991
Following a string of robberies, Poirot helps Chief Inspector Japp try to find the jewel thief. At the fourth scene of crime, the Detective finds no less than two promising clues: a glove and a cigarette case engraved with initials.
8
"The Mystery of the Spanish Chest"
Anthony Horowitz
Andrew Grieve
17 February 1991
The charming Mrs Clayton begs Poirot for protection from her jealous husband. When the couple later throw a party, Mr Clayton is found murdered in a Spanish chest.
9
"The Theft of the Royal Ruby"
Anthony Horowitz and Clive Exton
Andrew Grieve
24 February 1991
During Christmas holidays, Poirot gets a visit from the Egyptian prince whose royal ruby has been stolen by a prostitute. The investigation takes Poirot to the English countryside, where he gets to experience the true English Christmas.
10
"The Affair at the Victory Ball"
Andrew Marshall
Renny Rye
3 March 1991
Poirot and Hastings attend the Victory Ball, a classical masquarade where every guest is dressed as someone famous. Poirot dresses up as himself. During the frolicking, one of the guests, Viscount Cronshaw, is found stabbed to death – and another death soon follows.
11
"The Mystery of Hunter's Lodge"
T.R. Bowen
Renny Rye
10 March 1991
Poirot accompanies Hastings on a shooting party at the Hunter's Lodge, but is soon struck down with a flu. When their host is found murdered in the study, the Detective takes part in the police investigation from afar, only with the use of his little grey cells.
Series 4 (1992)
No.
Image
Title
Writer
Director
UK airdate
1
"The ABC Murders"
(feature-length)
Clive Exton
Andrew Grieve
5 January 1992
Poirot starts receiving mocking letters with allusions to crimes-to-be, signed "ABC". When an old woman, Alice Ascher from Andover, dies on the day indicated by ABC and an ABC railway guide is found by her body, Poirot and the police embark on a chase after the killer, who seems to choose his victims and crime scenes alphabetically, yet quite at random.
2
"Death in the Clouds"
(feature-length)
William Humble
Stephen Whittaker
12 January 1992
When one of the passangers on Poirot's flight, Madame Giselle, is murdered via a poisoned dart found under the Detective's seat, Poirot decides to help clear his name and aid Chief Inspector Japp in uncovering the true murderer.
3
"One, Two, Buckle My Shoe"
(feature-length)
Clive Exton
Ross Devenish
19 January 1992
Shortly after Poirot pays a visit to his dentist, Dr Morley, the latter is found shot in his office. The Detective does not believe it to be a simple case of suicide, and the further death of one of the suspects confirms his suspicions.
Series 5 (1993)
No.
Image
Title
Writer
Director
UK airdate
1
"The Adventure of the Egyptian Tomb"
Clive Exton
Peter Barber-Fleming
17 January 1993
Poirot and Hastings travel to Egypt to investigate the mystery surrounding a group of archaeologists who have been dropping dead since they opened an allegedly cursed ancient tomb.
2
"The Underdog"
Bill Craig
John Bruce
24 January 1993
Poirot investigates the violent death of Sir Reuben Astwell, a CEO of a chemical company and an uncommonly heartless man, whose list of enemies seems to be without end.
3
"The Yellow Iris"
Anthony Horowitz
Peter Barber-Fleming
31 January 1993
The wealthy Barton Russell throws a dinner party in remebrance of his wife Iris's death – and he invites the same people that were present the night of her murder. Poirot thus gets a unique chance to catch the perpetrator of the two-year-old tragedy, which he was not able to do at the time.
4
"The Case of the Missing Will"
Douglas Watkinson
John Bruce
7 February 1993
Andrew Marsh, a rich, terminally ill man, asks Poirot to be executor of his new will, in which he intends to leave the whole estate to his ward Violet Wilson. However, he is murdered before he can write it – and it seems that his old will has also disappeared.
5
"The Adventure of the Italian Nobleman"
Clive Exton
Brian Farnham
14 February 1993
Poirot helps solve the murder of Count Foscatini, an Italian nobleman of unsavoury reputation, who also happens to be the employer of Miss Lemon's new suitor.
6
"The Chocolate Box"
Douglas Watkinson
Ken Grieve
21 February 1993
While in Belgium, Poirot recounts to Chief Inspector Japp a case from twenty years prior. During his early days in the Belgian police, he looked into the suspicious death of the young politician Paul Deroulard, at the request of the charming Virginie Mesnard.
7
"Dead Man's Mirror"
Anthony Horowitz
Brian Farnham
28 February 1993
Gervase Chevenix, a dislikeable man who hired Poirot to investigate the possibly shady dealings of his business associate, is murdered shortly after.
8
"The Jewel Robbery at the Grand Metropolitan"
Anthony Horowitz
Ken Grieve
7 March 1993
Poirot is holidaying in Brighton on his doctor's orders, but gets dragged into an investigation when the pearl necklace of Mrs Opalsen, an actress staying in his hotel, is brazenly stolen.
Series 6 (1994–96)
No.
Image
Title
Writer
Director
UK airdate
1
"Hercule Poirot's Christmas"
(feature-length)
Clive Exton
Edward Bennett
25 December 1994
When the obnoxious multi-millionaire Simeon Lee unexpectedly invites his family to gather at his home for Christmas, the gesture is met with displeasure by many of the guests. The patriarch also sends for Hercule Poirot, as he feels the reunion might prove perillous. This is indeed the case, as one day, he is found with his throat slashed in the middle of his ransacked study.
2
"Hickory Dickory Dock"
(feature-length)
Anthony Horowitz
Andrew Grieve
12 February 1995
An outbreak of apparent kleptomania at a student hostel is not normally the sort of crime that arouses Hercule Poirot's interest. However, Miss Lemon persuades him to investigate, as the hostel is run by her sister – and the Detective soon finds it to be a 'unique and beautiful' problem.
3
"Murder on the Links"
(feature-length)
Anthony Horowitz
Andrew Grieve
11 February 1996
While Poirot and Hastings are enjoying their holiday in France, they are approached by Paul Renauld who fears for his life. The next day, his wife is found gagged and bound and the businessman himself lies dead on a nearby golf course. Poirot wagers the arrogant Giraud who is in charge of the case that he shall be the first to solve the crime.
4
"Dumb Witness"
(feature-length)
Douglas Watkinson
Edward Bennett
16 March 1996
Mrs Arundell, an elderly lady of considerable wealth, tells Poirot of her fear that one of her relatives is trying to kill her. She agrees to change her will but dies anyway. Was the dog to blame for her fall, or was it a perfectly devised, cold-blooded murder?
Series 7 (2000)
Series 8 (2001–02)
No.
Image
Title
Writer
Director
UK airdate
1
"Evil Under the Sun"
(feature-length)
Anthony Horowitz
Brian Farnham
20 April 2001
A quiet holiday at a secluded hotel in Devon is all that Hercule Poirot wants, but among his fellow guests is Arlena Stuart, a beautiful and vain woman who, seemingly oblivious to her own husband, revels in the attention of the also married Patrick Redfern. When she is found strangled on the beach, the Detective cannot resist and sets about investigating.
2
"Murder in Mesopotamia"
(feature-length)
Clive Exton
Tom Clegg
2 June 2001
When Poirot and Hastings are visiting a promising archeological dig on their holiday in Iraq, the Detective is sought out by Mrs Leidner, a woman troubled by nasty letters with death-threats that she keeps receiving from her first husband, otherwise believed to be dead. In due course, she becomes the the murderer's first victim...
Series 9 (2003–04)
No.
Image
Title
Writer
Director
UK airdate
1
"Five Little Pigs"
(feature-length)
Kevin Elyot
Paul Unwin
14 December 2003
Young Lucy Lemarchant, née Crale, asks Poirot to uncover the truth of the 14-year-old murder case in which her mother Caroline was hanged for poisoning her dallying husband Amyas Crale, the famous painter. Poirot reluctantly aquiesces and gathers the testimonies of the other five possible suspects – his 'five little pigs'.
2
"Sad Cypress"
(feature-length)
David Pirie
David Moore
26 December 2003
Young Elinor Carlisle is tried in court for first murdering her aunt for money and then also doing away with Mary Gerrard, her aunt's protégée who stole the heart of Elinor's fiancé. In a race against time before she is hanged, Poirot, who suspects foul play, reopens the investigation.
3
"Death on the Nile"
(feature-length)
Kevin Elyot
Andy Wilson
12 April 2004
Poirot embarks on a cruise ship on the Nile, where he gets to know Linnet Ridgeway, a rich American heiress on her honeymoon. The idyllic stay is hampered only by the spiteful presence of her former friend Jacqueline, who vowed revenge after Linnet stole the heart of her boyfriend. Murder is in the air...
4
"The Hollow"
(feature-length)
Nick Dear
Simon Langton
26 April 2004
Poirot is invited to The Hollow, a splendid country retreat of the Angkatell family. The unexpected arrival of Dr Christow's old lover leaves the company in an uproar. The next day, Dr Christow is found shot dead by the pool, his delicate wife standing next to him with a smoking revolver in her hand. Can the case be as simple as it seems?
Series 10 (2006)
Series 11 (2008–09)
No.
Image
Title
Writer
Director
UK airdate
1
"Mrs McGinty's Dead"
(feature-length)
Nick Dear
Ashley Pearce
14 September 2008
The murder of Mrs McGinty, a simple village charwoman, seems a straightforward enough affair – but Inspector Spence is not satisfied. He asks Poirot to step in and attempt to prove the innocence of the accused James Bentley, the victim's lodger. After finding a newspaper cut with the photographs of famous women-murderers, Poirot understands that the sins of the past can cast long shadows.
2
"Cat Among the Pigeons"
(feature-length)
Mark Gatiss
James Kent
21 September 2008
In the wake of a violent revolution, Princess Shaista is sent away to the safety of the Meadowbank girls' school, along with a trove of rubies. Soon, however, a member of the staff is murdered most brutally. Poirot assists Inspector Kelsey in discovering the clandestine 'cat among the pigeons'.
3
"Third Girl"
(feature-length)
Peter Flannery
Dan Reed
28 September 2008
Norma Restarick, an unbalanced young heiress, confides in Poirot that she might have killed someone, but runs away without explaining further. Ariadne Oliver assists Poirot in tracking the girl down and they soon discover that the girl's ex-nanny has recently commited suicide.
4
"Appointment with Death"
(feature-length)
Guy Andrews
Ashley Pearce
25 December 2009
Upon visiting an archaeological dig in Syria, Poirot gets to know a family of adopted children dominated by the sadistic matriarch Lady Boynton. She soon becomes the victim of murder.
Series 12 (2010–11)
No.
Image
Title
Writer
Director
UK airdate
1
"Three Act Tragedy"
(feature-length)
Nick Dear
Ashley Pearce
3 January 2010
Stephen Babbington, a well-liked clergyman with no enemy in the world, chokes to death on a cocktail at a party thrown by the renowned Sir Charles Cartwright. At first, Poirot dismisses foul play – but he is forced to reconsider when some time later, another guest at a party attended by the same people dies in the exact same manner.
2
"Hallowe'en Party"
(feature-length)
Mark Gatiss
Charles Palmer
27 October 2010
Joyce Reynolds, a girl who claims to have witnessed a murder, is found drowned in the apple-bobbing tub at a children's Halloween party. Ariadne Oliver and Poirot set out to investigate.
3
"Murder on the Orient Express"
(feature-length)
Stewart Harcourt
Philip Martin
25 December 2010
Hercule Poirot travels to London on the Orient Express. After the train is forced to stop due to a snow drift, the body of one of the passengers is found, the victim having suffered multiple uneven stab wounds. At the request of the company's director, Poirot launches an investigation into the man's death and quickly discovers that there is no shortage of suspects among the travelers.
4
"The Clocks"
(feature-length)
Stewart Harcourt
Charles Palmer
26 December 2011
Sheila Webb, a girl working for a secretarial service, is summoned to the house of a customer. There she finds the body of a dead man and four clocks all set to the wrong time.
Series 13 (2013–14)
No.
Image
Title
Writer
Director
UK airdate
1
"Elephants Can Remember"
(feature-length)
Nick Dear
John Strickland
9 June 2013
Ariadne Oliver wishes to unravel the mystery behind the deaths of her goddaughter Celia's parents, who were found shot on their estate ten years prior. Mrs Oliver tries to incite Hercule Poirot to help her, but as he is busy with another case, she settles on playing the part of the amateur sleuth herself – after all, though a decade has passed since the tragedy, human memory is nearly as strong as that of elephants.
2
"The Big Four"
(feature-length)
Mark Gatiss and Ian Hallard
Peter Lydon
23 October 2013
With the help of his old friends Captain Hastings, Miss Lemon and Inspector Japp, Hercule Poirot investigates a series of carefully planned and executed murders. They appear to be linked by a secret society called 'The Big Four', whose members migth stop at nothing shorter of the advent of another world war.
3
"Dead Man's Folly"
(feature-length)
Nick Dear
Tom Vaughan
30 October 2013
Mrs Ariadne Oliver is asked to stage a murder hunt for the party at Nasse House, the country residence of the Folliat family. As the fête approaches, her intuition tells her that something is not right – as if an invisible hand was cleverly jockeying her along to fit their own plans. Under false pretenses, the writer invites Hercule Poirot – but even the famed Detective cannot prevent a tragedy.
4
"The Labours of Hercules"
(feature-length)
Guy Andrews
Andy Wilson
6 November 2013
Hercule Poirot picks up on the trail of the ingenious thief Marascaud and with the assistance of the Metropolitan Police, he devises a trap for him: a painting by the thief's favourite artist will be displayed on the debutante ball for the young Lucinda Le Mesurier. Alas, the Swiss hotel becomes snowbound and not even Poirot can foresee the array of seemingly insoluble mysteries that are about to come.
5
"Curtain"
(feature-length)
Kevin Elyot
Hettie Macdonald
13 November 2013
After almost thirty years apart, Hercule Poirot, now crippled with arthritis and being tended to at the post-war guest house at Styles Court, is reunited with his old companion Captain Hastings, who has since become a widower. When the great detective brands one of the seemingly harmless guests a ruthless serial killer, people begin having doubts about the capability of his once renowned 'little grey cells'. But Poirot is aware that he alone must work quickly before the murderer strikes again, even if it means putting his life on the line...
Stories not adapted
The play Black Coffee was not adapted into an episode. In 2012, Suchet performed a rehearsed reading of Black Coffee, produced and presented by The Agatha Christie Theatre Company, in aid of Chichester Festival Theatre's restoration fund.
"The Lemesurier Inheritance" was not adapted into an episode. The adaptation of The Labours of Hercules (2013) had a murder victim by the name of Lemesurier which is supposedly a nod to the story, but the association is weak and limited only to the name. No plot element of the story appears in the film.
"Poirot and the Regatta Mystery" (1936) was not adapted into an episode. Christie rewrote the story and republished it in 1939 as "The Regatta Mystery", featuring Parker Pyne as the detective. The Poirot version was not published again and largely forgotten until 2008.
Christie had also written a short story in 1939 entitled "The Capture of Cerberus" intended as the 12th story of her The Labours of Hercules collection, but this story was rejected by the publishers. She subsequently rewrote the story, removing the political content, for inclusion in Labours. The original rejected story remained unpublished until 2009 and was never adapted for film.
Additionally, Agatha Christie had expanded a number of Hercule Poirot short stories into other stories or full length novels with a different title. Where the later story or novel had been adapted into film, the original short story was not adapted as the plot would have been too similar. These are: