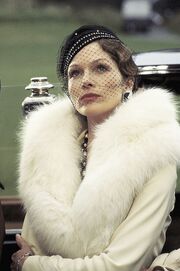 Linnet Doyle
(née
Ridgeway
) is the murder victim in the center of
Death on the Nile
. She inherited a fortune from her American grandfather and was very beautiful. She bought the estate
Wode Hall
(near Malton-under-Wode) from
Sir George Wode
, who had gone bankrupt.
One of her suitors, before her marriage, was Charles Windlesham.
When discussing the passengers onboard the S.S. Karnak, Poirot and Mrs Allerton likened Linnet to the Queen in Alice in Wonderland ("Off with her head."), with a bit of the Naboth's vineyard touch.
Spoilers! Do not continue reading if you haven't read the book all the way!
She was murdered by her husband Simon Doyle who was working together with his former lover Jacqueline de Bellefort, who was Linnet's old friend.
For more information on the crime, consult Jacqueline de Bellefort's page.
Linnet was the daughter of Melhuish Ridgeway and Anna Hartz. Her maternal grandfather, Leopold Hartz, was an American millionaire.
Community content is available under
CC-BY-SA
unless otherwise noted.