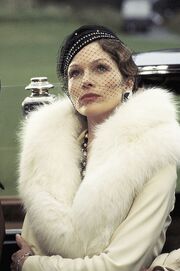 Linnet Doyle (née Ridgeway) is the murder victim in the center of Death on the Nile. She inherited a fortune from her American grandfather and was very beautiful. She bought the estate Wode Hall (near Malton-under-Wode) from Sir George Wode, who had gone bankrupt.
One of her suitors, before her marriage, was Charles Windlesham. She was also a friend of Joanna Southwood.
Linnet was described as having "bright golden hair and an eager confident face".
When discussing the passengers onboard the S.S. Karnak, Poirot and Mrs Allerton likened Linnet to the Queen in Alice in Wonderland ("Off with her head."), with a bit of the Naboth's vineyard touch.
Joanna Southwood described Linnet as a "beneficient tyrant", saying that she always got exactly what she wanted.
At the beginning of the novel, Jacqueline de Bellefort asked Linnet to give Simon Doyle a job as her land agent. Linnet liked Simon, and gave him the job.
Linnet later married Simon, and they went to Egypt for their honeymoon. At the Cataract Hotel in Assuan, Linnet approached Poirot, and asked him to take up her case. When he said that he would not take cases while on holiday, Linnet said that it could be arranged, and spoke "with the quiet confidence of a young woman who had always been able to arrange matters to her satisfaction".
Linnet told Poirot that she was the subject of an "intolerable persecution". She explained that after Simon broke off his engagement to Jacqueline and married her, Jacqueline, whom she called Jackie, had been stalking them.
Linnet said that there must be some kind of legal redress against such a thing, but Poirot told her that Jacqueline was within her rights, as she had not threatened them in actual words, attempted bodily harm, or forced herself on their privacy.
Poirot suggested that the reason Linnet found Jackie's stalking intolerable was because she felt a sense of guilt. He suggested that Linnet had deliberately set out to take Simon from Jackie, and that there was a moment when she realised that she had a choice, to refrain or go on, but she chose to go on.
Linnet asked Poirot to talk to Jackie, and he agreed to do so, although he declined any commission from her.
At the beginning of the cruise on the Karnak, Linnet told Poirot that she was afraid, and that everyone hated her. She said that except for Simon, she was surrounded by enemies.
During the cruise, Andrew Pennington asked Linnet to sign some documents, and she read each one carefully before signing, saying that her father taught her to do that. Mr Fanthorp complimented her on this, saying that to never sign a document without reading it through first is admirable.
Linnet had a near escape at the temple of Abu Simbel, when a boulder rolled down the cliff. It would have crushed her, if Simon had not dragged her to safety in time.
That night, Linnet and Simon played bridge in the saloon, with Colonel Race and Andrew Pennington.
The following morning, Linnet's maid, Louise Bourget, found her dead. She had been shot in the head at close quarters, with the bullet entering just above the ear. There was no sign of a struggle, suggesting that she had been shot while she was asleep.
Spoilers! Do not continue reading if you haven't read the book all the way!
She was murdered by her husband Simon Doyle who was working together with his former lover Jacqueline de Bellefort, who was Linnet's old friend.
For more information on the crime, consult Jacqueline de Bellefort's page.
Family
Linnet was the daughter of Melhuish Ridgeway and Anna Hartz. Her maternal grandfather, Leopold Hartz, was an American millionaire.
Portrayals
In the 1978 Ustinov adaptation of Death on the Nile, Linnet is portrayed by actress Lois Chiles. Unlike the original novel, many more people on the S. S. Karnak had a grudge against her and the list of plausible suspects is much longer. Dr Bessner refers to Linnet as "the young kaugummi heiress". Kaugummi means chewing gum and suggests that her father's main source of wealth was in the manufacture of chewing gum. This is not found in the original novel.
In the 2004 Agatha Christie's Poirot episode, Linnet was portrayed by actress Emily Blunt.
In the 2020 film, Linnet will be portrayed by actress Gal Gadot.