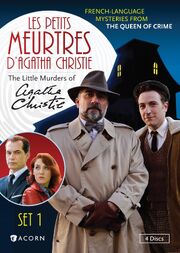 Les Petits Meurtres d'Agatha Christie (English Title: "The Little Murders of Agatha Christie") is a French television series that first broadcast on France 2 on 9 January 2009.
In the United States, the second series is titled "Agatha Christie's Criminal Games" and is shown on MHz Choice streaming and broadcast network.
Episodes
Main article: List of Les Petits Meurtres d'Agatha Christie episodes
The series opened with a 4-episode mini-series set in 1930's France "Petits Meurtres en Famille" (an adaptation of Hercule Poirot's Christmas) broadcast in 2006. These featured the two detectives who were to become the lead characters in season 1.
Season One takes place in 1930's northern France with Superintendent Larosiere, who has a passion for beautiful women and solving cases, while hapless young Inspector Lampion just tries to keep up. There were 11 episodes broadcast between 2009 and 2012, all adaptations of various Christie stories.
Season Two is set in mid 1950's through 1960's mainly in Lille with Commissaire Swan Laurence, his secretary Marlène Leroy and newspaper reporter Alice Avril who insists on helping despite Laurence's preference to work alone. There were 27 episodes broadcast between 2015 and 2020 of which 25 were adaptations of Christie's stories.
A third season is targeted for release in 2021 and will feature a new set of detectives in a 1970s setting.
Cast
Main characters
Season one (1930s)
Season 2 (1950s-1960s)
Season 3 (1970s) (scheduled, characters not official)