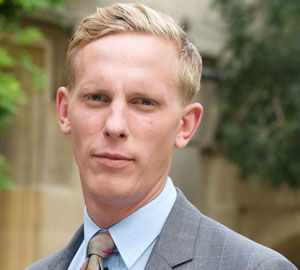 Laurence Fox (born 1978) is an English actor best known for his leading role as Detective Sergeant James Hathaway in the British TV drama series Lewis (2006–). He is the scion of a show business family: his father is the actor James Fox; Edward Fox and Robert Fox are both uncles, and his cousin Emilia and sister Lydia also have successful acting careers.
Fox's rebellious nature led to difficult times at Harrow School and the Royal Academy of Dramatic Art (RADA). His first break into film was in the horror-thriller The Hole (2001), which he followed up with a part in Gosford Park (2001). After playing a number of German and British soldiers, his performance in Colditz (2005) was noticed. This led to his being offered the role in Lewis, six series of which have been produced and aired between 2006 and 2012.
Fox has portrayed Prince Charles, in Whatever Love Means (2005); Wisley, one of Jane Austen's suitors, in Becoming Jane (2007); and Sir Christopher Hatton, the Lord Chancellor of England in Elizabeth: The Golden Age (2007). Fox was seen on ITV as Cecil Vyse in Andrew Davies' adaptation of A Room with a View (2007) based on E.M. Forster's 1908 novel.
On stage, Fox has appeared in Shaw's Mrs Warren's Profession (2002), John Ford's 'Tis Pity She's a Whore (2005) and Christopher Hampton's Treats (2006–07).
Early years and education
The third of five children of actor James Fox and his wife Mary Elizabeth Piper, and a great-grandson of dramatist Frederick Lonsdale, Laurence Fox was born in 1978 in Yorkshire, England. At the age of 13 he entered Harrow School where, according to him, he was "shy around women, sensitive and a bit naive". Although he made friends and liked the drama teacher, he hated the school's strict regime and felt despised and out of place among pupils with titles and wealth. Constantly in trouble for smoking, fighting, going into town and seeing girls, he was eventually expelled a few weeks before his A-levels. According to him, "It was something to do with a girl at a dance. I went back to take the exams, but I wasn't allowed to speak to anyone." In hindsight, Fox has said that his experience at Harrow enabled him to portray "toffs" – the upper class boys looking down on him and whom he disliked – with much insight and cynicism.
Despite doing well in his A-level examinations, because of the report that Harrow had written on him, he was unable to obtain a place at any university. After working as a gardener for two years, and a stint as an office worker which he loathed, he discovered that he enjoyed acting and enrolled at the Royal Academy of Dramatic Art (RADA). During his time there he appeared in numerous theatre productions, including the lead roles of Gregers Werle in Ibsen's The Wild Duck, Marcus Andronicus in Titus Andronicus, and Stephen Daedalus in an adaptation of James Joyce's novel Ulysses. However, he was disappointed to find that he was treated "like a nonce" for being an Old Harrovian. He also made himself more unpopular by being outspoken and taking on roles in his second and third years despite the practice being forbidden by school policy. One of these was his first break into film – the 2001 horror-thriller The Hole. Fox feels that in landing the role his name "probably helped – it's a combination of timing, luck and contacts". Nonetheless, "[t]he name opens some doors, but then you have to show you can do the job".
Career
Fox, who graduated from RADA on 1 July 2001, followed up The Hole by appearing in Robert Altman's 2001 Academy award-winning film Gosford Park. He then donned uniforms in a slew of film and television features, including roles as a German airman in Island at War (2004), an SS officer in The Last Drop (2005), and as British soldiers in the 2002 films Deathwatch and Ultimate Force, and in Colditz (2005). In the last made-for-television film, Fox played Capt. Tom Willis who, after an unsuccessful attempt to break out of a prisoner-of-war camp, is brought to Oflag IV-C in Colditz Castle, one of the most infamous German POW camps for officers in World War II. Actor Kevin Whately caught Fox's performance in the last ten minutes of the film, which he characterised as "this young English boy going bonkers and wandering out to be shot", and thought "He's interesting." The next day, at a lunch meeting with "all the powers that be" regarding a new project, Whately mentioned that Fox "would be worth taking a look at".
As a result, Fox was cast in the ITV detective drama Lewis as Detective Sergeant James Hathaway, a Cambridge-educated former trainee priest who becomes the partner of Detective Inspector Robert Lewis, played by Whately. The pilot of this spin-off from Inspector Morse (1987–2000), was ITV's highest rated drama of 2006. Five series have been broadcast between 2006 and 2011.
Real persons that Fox has portrayed include Prince Charles, in Whatever Love Means (2005); Wisley, one of Jane Austen's suitors, in Becoming Jane (2007); and Sir Christopher Hatton, the Lord Chancellor of England in Elizabeth: The Golden Age, also released in 2007. In addition, in that year Fox was seen on ITV as Cecil Vyse in Andrew Davies' adaptation of A Room with a View based on E.M. Forster's 1908 novel. He has expressed a desire to appear in a western, and to star as James Bond – the closest he got to the latter was losing the role of villain Gustav Graves in Die Another Day (2002) to Toby Stephens.
On stage, Fox appeared in Mrs Warren's Profession by George Bernard Shaw at the Strand Theatre (now the Novello Theatre) in London in 2002, and John Ford's 17th-century play 'Tis Pity She's a Whore in 2005. Between 2006 and 2007 he starred in Treats by Christopher Hampton with his future wife, Billie Piper. In April 2007, Fox lost his temper with a paparazzi photographer outside the Garrick Theatre in London where he was performing in Treats and was arrested for assault. He was later released after receiving a police caution. Newspaper reports stated that the caution would remain on his record for three years and might prevent his obtaining a visa to perform in the US.
When filming, Fox often plays the jester to amuse the cast and crew. He has said, "I'd just rather have a good time than I would be Daniel Day-Lewis. There ain't no method to my acting."
Personal life
Fox dated British actress Billie Piper in 2006 while they performed together in the stage play Treats. On 31 December 2007 Fox married Piper in the 12th century parish church of St. Mary's in Easebourne, West Sussex. During a 21 February 2008 interview on ITV breakfast show GMTV, Fox revealed that after a "drunken lunch" during their honeymoon in Mexico he and Piper got matching tattoos to celebrate their marriage. His tattoo, on his forearm, reads "Mrs Fox 31 December 2007", while hers states "Mr Fox". Fox and Piper live in a country cottage in the market town of Midhurst in West Sussex. In March 2008 it was reported that Piper had expressed to family and friends a desire to adopt children as well as to have children of her own with Fox. On 27 April 2008 the Sun, quoting an unnamed source, announced that Piper was three months' pregnant and that she and Fox were "absolutely over the moon". On 21 October 2008, Piper gave birth to a son, Winston James Fox, by emergency Caesarean section. Piper gave birth to their second son, Eugene Pip, on 2 April 2012.
Fox's siblings are Tom (born 1975), Robin (1976), Lydia (1979) and Jack (1985); Lydia Fox is herself an actress. His uncles are the actor Edward Fox and the theatrical and film producer Robert Fox. The actors Emilia Fox and Freddie Fox are his first cousins, being the children of Edward Fox.
Selected work
Film
Year(s)
of appearance
Film
Role
Awards and nominations
2001
The Hole
Geoff Bingham
2001
Gosford Park
Lord Rupert Standish
2002
Deathwatch
Capt. Bramwell Jennings
2003
Al Sur de Granada (South from Granada)
Ralph Partridge
2007
Becoming Jane
Mr. Wisley
2007
Elizabeth: The Golden Age
Sir Christopher Hatton
Television
Year(s)
of appearance
Film or series
Role
Awards and nominations
2002
(2 episodes)
Ultimate Force (2002–2006)

"Something to Do with Justice"
"Natural Selection"
Cpl. Mick Sharp
2003
(1 episode)
Foyle's War (2002–present)"War Games"
Simon Walker
2004
Island at War
Airman Bernhardt Tellemann
2004
AD/BC: A Rock Opera
Townsfolk
2005
Colditz
Capt. Tom Willis
2005
The Last Drop
SS Maj. Kessler
2005
(1 episode)
Jericho

"The Killing of Johnny Swan"

Peter Bridgewater
2005
(2 episodes)
Egypt

"The Search for Tutankhamun"
"The Curse of Tutankhamun"

Leonard
2005
Whatever Love Means
Charles, Prince of Wales
2006–present
Lewis
D.S. James Hathaway
2006
Agatha Christie's Marple: The Sittaford Mystery
Jim Pearson
2007
A Room with a View
Cecil Vyse
2008
Wired
Philip Manningham
2011
Fast Freddie, The Widow and Me
Jonathan Donald
Theatre
Year(s)
of appearance
Production
Role
Awards and nominations
19–28 October 2000
Kit's Play
by Howard BrentonJerwood Vanbrugh Theatre, London, England
The DG/Earl of Northumberland
[While at RADA]
The Wild Duck (1884)
by Henrik Ibsen
Gregers Werle
[While at RADA]
Titus Andronicus (1584 – early 1590s)
by William Shakespeare
Marcus Andronicus
[While at RADA]
Ulysses
based on the James Joyce novel first published in its entirety in 1922
Stephen Daedalus
[While at RADA]
The Wild Goose Chase (1652)
by John Fletcher
Belleur
[While at RADA]
The Provoked Wife (17th century)
by John Vanbrugh
Constant
8–17 February 2001
Hobson's Choice (first performed 1916)
by Harold Brighouse

Jerwood Vanbrugh Theatre, London, England

Fred Beanstock
2002
Mrs Warren's Profession (1893)
by George Bernard Shaw

Strand Theatre, London, England

Frank Gardner
2005
'Tis Pity She's a Whore (first performed 1629–1633)
by John Ford

Southwark Playhouse, London, England; and United Kingdom tour

Soranzo
2006–2007
Treats (1975)
by Christopher Hampton

Garrick Theatre, Richmond Theatre, Royal Court Theatre and Southwark Playhouse, London, England

Patrick