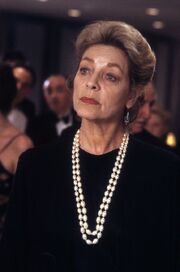 In the novel Appointment with Death, Lady Westholme (previously Mrs Vansittart) was an American born British Member of Parliament, married to Lord Westholme.
Lady Westholme was described as being a "big masterful woman with a rocking-horse nose". She "lived entirely in tweeds and stout brogues, bred dogs, bullied the villagers and forced her husband pitilessly into public life". She later allowed her husband to resume his sporting activities, and herself stood for Parliament.
Lady Westholme was elected with a substantial majority, and was very active in political life, especially at Question Time. She stood for the values of family life, welfare work amongst women, and was an ardent supporter of the League of Nations. She also had decided views on agriculture, housing and slum clearance. She was highly respected, but universally disliked.
On the morning of the journey to Petra, Lady Westholme argued with the representative from the tourist agents, over the size of the car provided. She was described as metaphorically rolling over him "like a large steamroller".
Lady Westholme considered efficiency to be her watchword. She made suggestions to the manager of the Solomon Hotel, for the more efficient running of the hotel. She had also intended to make suggestions on how the camp at Petra could be better run, including having the drinking water boiled as well as filtered.
While at the camp at Petra, Lady Westholme knitted a navy-blue jumper, while instructing Miss Pierce on the proper reform of the Divorce Laws.
When Lady Westholme entered the room with Miss Pierce, to be interviewed by Poirot, she did so "with the assurance of a transatlantic liner coming into dock". She told Poirot that on the day of the murder, she and Miss Pierce rested in the afternoon, and then went for a walk. They called up to Mrs Boynton to ask if they could get her anything, and she only grunted in response. They also said that Mrs Boynton had been angry with one of the Arab servants, and had called out and shaken her stick at him. Lady Westholme described him as a man of more than aerage height, wearing the usual native head-dress, ery tornn and patched breeches, and puttees that were wounnd untidily. However, she did not see his face as it was too far away.
During the denouement, Poirot explains that if Lady Westholme could not see the man's face or hear what he said, she could not possibly have seen the raggedness of his breeches or the untidiness of his puttees. He suggests that Lady Westholme disguised herself as an Arab servant and went up to Mrs Boynton's cave, where she killed her.
Poirot further suggests that after killing Mrs Boynton, Lady Westholme went to Miss Pierce, and commented on the scene which she had just witnessed, impressing her own version of it on Miss Pierce. When they went for a walk, Lady Westholme called up to Mrs Boynton, and received no answer because Mrs Boynton was dead. However, she commented on how Mrs Boynton had snorted, and Miss Pierce accepted the suggestion. Poirot explains that Lady Westholme had sat on committees with women of Miss Pierce's type to know how she could influence them.
Poirot suggests that before leaving America, Lady Westholme had been in prison before her marriage, and that Mrs Boynton had been a warden at the prison, and had recognised Lady Westholme. This put Lady Westholme's political career at stake. She likely knew that Mrs. Boynton wouldn't be interested in blackmailing for the money but to enjoy having Lady Westholme in her power to tormet, and obviously destroy her by exposing the truth after having her fun.
Lady Westholme murdered Mrs. Boynton so that she couldn't reveal Lady Westholme's secret past. Rather than being exposed as a murderer Lady Westholme committed suicide. It was reported in the Evening Shout that she had been cleaning her revolver when it went off accidentally, and killed her.
Portrayals
Appointment with Death (1988 film)
In the 1988 adaptation of the novel Lady Westholme was portrayed by American actress Lauren Bacall. The portrayal is fairly faithful to the original and she has the same backstory and role, except that here she picked one Miss Quinton as a travelling partner instead of Amabel Pierce. In this adaptation her portrayal is slightly embellished. As a member of parliament, she appears devoted to her political work. In Jerusalem, and even at Qumran, she spent her time reading reports about the situation in Palestine. Later, she has a meeting with Lord Peel who at that time was heading a Royal Commission investigating the causes of unrest in the territory.
Appointment with Death (2008)
In the 2008 ITV adaption of Appointment with Death, the character's name is changed slighted to Dame Celia Westholme and is portrayed by American actress Elizabeth McGovern. Here she has a different backstory and role in the plot. During the events in the show, she is not a politician but a famous explorer and traveller who has written many books.
It is only during the denouement at the end that her backstory and antecedents are revealed. Many years earlier, Celia Westholme was a maid working for Lady Boynton who was at that time Mrs Pierce. She met and had an affair with a housegust Theodore Gerard and became pregnant. After giving birth to Jinny she went to join a convent in Ireland. The baby was handed over and adopted by Mrs Pierce. Subsequently Celia Westholme she reinvented and remade her persona as a renowned traveller and explorer and was made a Dame for her achievements. It is possible that her name when she was a maid was different but this is not stated.
Years later, Dame Celia discovered that Mrs Pierce, now Lady Boynton, had been badly mistreating her adopted children, including her daughter Jinny. They had been beaten and tortured in various ways. Dame Celia sought out Gerard in Vienna (presumably he was there to train in psychiatry). She persuaded him to join in a scheme to kill Lady Boynton. Like in the original novel, she is the murderer of Lady Boynton except that here the motive is retribution and revenge for what had been done to Jinny, and also to save Jinny. See here (click expand) and also here for details on how they made killed Lady Boynton after making her suffer. Dame Celia's contribution to the plot was first in injecting a small, paralysing does of morphine, making it appear as an insect sting. Later, she was the first to approach Lady Boynton's body and she took the opportunity to stab her, to fake the cause of death. Dame Celia died at the end just like in the original except that she did not shoot herself. She was fatally injected with digitalis by her co-conspirator who also did the same to himself.
Les Petits Meurtres d'Agatha Christie
In Rendez-vous avec la mort, the French Televisions adaptation of the novel, the parallel character is Raoul Neuville.