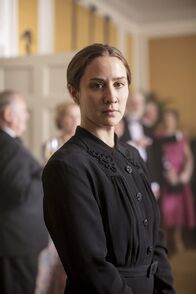 In the novel Ordeal by Innocence, Kirsten "Kirsty" Lindholm is a nurse and masseuse from Sweden. She joined the Argyle household during the war when Rachel Argyle opened their home as a place for children age 2 to 7, safe from the bombing of the Second World War. She stays on as a housekeeper.
She becomes the accomplice of Jacko. She stabs Phillip Durrant, and she also tries to kill Tina Argyle without success.
Portrayals
In the 2018 BBC Ordeal by Innocence miniseries, the characters are mostly kept but the story is almost completely rewritten. The murderer of the case is changed from Jacko to Rachel's husband Leo. When the family realizes that Leo was the murderer of Rachel and Phillip (the attempted murder of Tina is not present here) Kirsten locks him in a safe room at Sunny Point. In this adaptation Kirsten was revealed to be the biological mother of Jacko. Kirsten is played by actress Morven Christie.