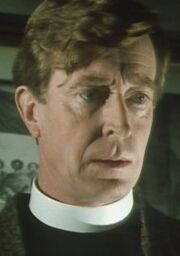 The Reverend Julian Harmon is the vicar of Chipping Cleghorn. He is the husband of "Bunch", a goddaughter of Jane Marple. Although he is in his thirties, he is described as "a model designed by Nature for the age of sixty". He was educated at Oxford (and not in Milchester), and is an intellectual man, with a fondness for detective stories. His wife went to Little Paddocks the evening in which Rudi Scherz was killed due to an advertisement on a newspaper saying that a murder was going to take place at the scheduled address and time.
The Harmons have a cat named Tiglath Pileser.
Portrayals
In the BBC 1985 adaptation of the novel which formed part of the Miss Marple series, Reverend Harmon is played by David Collings. Like in the novel, he is fond of detective stories. He names the vicarage cat Delilah.
This character does not appear in the ITV 2005 adaptation of the novel. The character of Diana Harmon is omitted as well, and the cat Tiglath Pileser doesn't appear. Here the vital clue that the cat provides is given by Miss Marple herself.