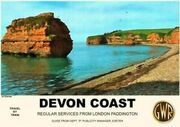 In the novel Evil Under the Sun, The Jolly Roger Hotel is a secluded, but fashionable, hotel on its own private island off the Devon coast. The hotel is owned and run by Mrs Castle.
Christie modeled the hotel after the Burgh Island Hotel located on Burgh Island off Bigbury-on-Sea in Devon. She had stayed there herself on several occasions and used the geography the island as plot devices in her story.[1]
Staff of the Jolly Roger Hotel
Portrayals
1982 film
In the 1982 Evil Under the Sun John Brabourne/EMI film, the hotel is located on an island in the Adriatic Sea. A number of locations in Mallorca and Majorca were used as filming locations. Some hotel exteriors and the cove in which it is located were filmed at Cala d'en Monjo in Mallorca.[2] The building which was used for some exterior shots has however been demolished. Other hotel exteriors were shot at the Raixa estate in Majorca.[3]
Agatha Christie's Poirot
In the ITV 2001 adaptation, the hotel is renamed "The Sandy Cove Hotel". The actual Burgh Island Hotel and Burgh Island was used as the filming location.
References
↑ John Curran, Agatha Christie's Secret Notebooks: Fifty Years of Mysteries in the Making (London: HarperCollins, 2011), 280-281, ebook edition.