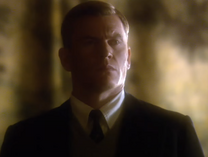 In the novel Mrs McGinty's Dead, Major Johnnie Summerhayes is the husband of Maureen, with whom he lived in India before settling in Long Meadows, a house in Broadhinny. Both parents of Major Summerhayes lived in Long Meadows, which belonged to the Summerhayes family for three hundred years. When Major Summerhayes' father died, he found himself in serious financial problems.
He and his wife had two dogs named Cormic and Flyn. They also had several cats and at least one pig, who was referred to as Piggy several times throughout the novel.
He spoke with a "slow, lazy voice". He has a devilish temper and is inclined to be moody, but he described as being "one of the old gang". When Poirot made accusations against Major Summerhayes, he broke in a furious tide and rushed towards Poirot, but he was stopped by Superintendent Spence.
He tells his wife that he had heard Hercule Poirot's name, but does not remember where. He suggests Poirot might sell pickles. His wife instead believed Poirot was some sort of hairdresser.
Mrs McGinty used to be the cleaner of the couple, but she was bludgeoned to death. She went to Long Meadows on Monday mornings and Thursday evenings. She said lots of work has to be done in the house, but that the Summerhayes were overall a nice family. In the house, Major and Mrs Summerhayes regularly welcomed PGs, or Paying Guests.
Major Summerhayes owned a station wagon car. At the time someone attempted to kill Poirot, he was not at home--he was buying pig food. It is unclear where he went to buy it, but Major Summerhayes had muttered something about "Covent Garden", so it was implied he might have gone to that London neighbourhood.
Portrayals
He was portrayed by Richard Dillane in the 2008 ITV TV adaptation which formed part of the TV series Agatha Christie's Poirot. Here there are much less details about the character, since his bad temper and his alibi for Poirot's attempted murder are not stated. There are also no statements about his financial situation or his family.