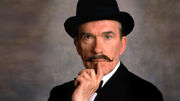 Albert John Moffatt (24 September 1922 - 10 September 2012) was an English actor and playwright, known for his portrayal of Hercule Poirot on BBC Radio.
Broadcasting
Moffatt first broadcast on BBC radio in 1950 in Mrs Dale's Diary. His later radio roles included Oswald to Gielgud's King Lear, Lord Chief Justice to Timothy West's Falstaff and Quilp in The Old Curiosity Shop. He played both Holmes and Watson in radio adaptations. In the 1980s he was a member of the BBC's Radio Drama Company. His most conspicuous radio role was Hercule Poirot in adaptations of Agatha Christie's detective stories. Maurice Denham stars in The Mystery of the Blue Train and Peter Sallis stars in Hercule Poirot's Christmas. John Moffatt appeared in this part in 25 episodes They are listed below.
BBC Radio adaptations
Audiobooks
Television
In 1984 he appeared in one episode of the televised adaptations of Agatha Christie's other celebrated detective series, Miss Marple as Edwards in The Body in the Library.
Film