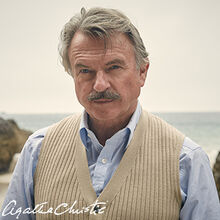 In the novel And Then There Were None, General John Gordon MacArthur, CMG, DSO was a retired army officer. He was invited to Soldier Island. He is described as a "tall, soldiely old man" with shrewd blue eyes, a white trimmed moustache, and grey hair. His wife was having an affair with one of his army acquaintances, which was sent to certain death by the general for a pure passional crime. The murder of Arthur Richmond, his friend, was then discovered by a soldier. He lived in East Devon just on the border to Dorset.
Portrayals
1945 - In the 1945 TV adaptation of And Then There Were None, John Macarthur was renamed General Sir John Mandrake and portrayed by Charles Aubrey Smith.
1974 - In the 1974 And Then There Were None film, he was renamed André Salvé and portrayed by actor Adolfo Celi.
2015 - In the latest 2015 screen adaptation of the novel, General Macarthur is played by Sam Neill. Here, his role remains mostly faithful to the original one, except that, instead of sending Richmond directly to his death in the Western Front, he shoots him.