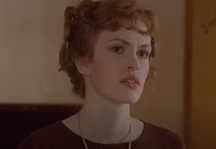 In the novel Death on the Nile, The Honourable Joanna Southwood was a very close friend of Linnet Ridgeway. She and Tim Allerton are second cousins.
Joanna is described as a "tall thin young woman of twenty-seven, with a long clever face and freakishly plucked eyebrows".
Joanna says that if any misfortune befalls her friends, she always drops them at once. She believes that this sounds heartless, but saves a lot of trouble later, as those friends would always want to borrow money, or they would start a business and she would have to support it. She says that she only likes successful people, and is of the opinion that this is true of nearly everybody, except that most people will not admit it.
Joanna and her second cousin, Tim Allerton, have a mutual attraction which appears to be "founded on gossip and the possession of a large number of friends and acquaintances in common".
Towards the end of the novel, Poirot explains that for the last three years, there had been certain jewel robberies that had worried Scotland Yard a good deal. The method was usually the same, substituting an imitation for the original piece of jewelley.
Chief Inspector Japp focused his attention on Joanna because every one of the victims had been either a friend or acquaintance of hers, and in each case she had either handled or been lent the piece of jewellery in question. Her style of living as also far in excess of her income.
However, it was clear that the substitution of the jewellery was not accomplished by Joanna, as in some cases she was out of England during the period when the substitution must have taken place. It was thought that as Joanna had at one time been associated with a Guild of Modern Jewellery, she handled the jewels, made accurate drawings of them, and got them copied by a jeweller. The substitution would then be made by an accomplice who could have been proved never to have handled the jewels, and never to have had anything to do with imitations of jewels.
After the death of Linnet Doyle, her pearls are discovered missing. Poirot knows that Joanna was an intimate friend of Linnet's, and also that there was a close association between Joanna and Tim Allerton. He suspects that Tim is Joanna's accomplice, and is the one who has been substituting the imitation jewels for the real ones.
At the end of the novel, Joanna is in Switzerland, and reads about Linnet's death.
Portrayals
Joanna Southwood does not appear in the 1978 Ustinov film adaptation.
She does appear in the 2004 Suchet film adaptation. She has a large speaking part in the early part of the show and her lines there closely match those in the novel about what she does with friends who get into trouble. She also makes some remarks about Linnet and Lord Windlesham. There are also a few scenes of Joanna in flashback at the end when Poirot is discussing Scotland Yard's suspicions of her. There is a scene showing her handling Linnet's pearls. Joanna Southwood is portrayed by Elodie Kendall.