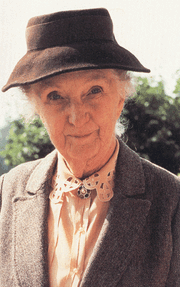 Joan Hickson OBE (5 August 1906 – 17 October 1998) was an English actress of theatre, film and television, famed for playing Agatha Christie's Miss Marple in the television series Miss Marple. As well as portraying Miss Marple on television, Hickson also narrated a number of Miss Marple stories on audio books.
Wivenhoe
From 1958, Joan Hickson lived in Rose Lane, Wivenhoe along the River Colne in Essex, until 1998. A plaque now marks the house where she lived for 40 years.
Biography
Born in Kingsthorpe, Northamptonshire, Joan Bogle Hickson was a daughter of shoe manufacturer Alfred Harold Hickson and his wife, the former Edith Mary Bogle. She made her stage debut in 1927, and for several years worked throughout the United Kingdom and achieved success playing comedic, often eccentric characters in London's West End, including the role of the cockney maid Ida in the original production of See How They Run, at the Q Theatre in 1944, and then at the Comedy Theatre in January 1945.
She made her first film appearance in 1934, and the numerous supporting roles of her career included several Carry On films including Sister in Carry On Nurse; in a wonderfully comedic moment, her character in Carry On Girls discovers that someone has played a practical joke on her, waving her underwear from a flagpole. Joan then approaches Jack Douglas, and informs him that she would like him to accompany her across to the promenade. When he asks why, she exclaims – with impeccable timing – "Well, I want you to take my knickers down!"
In the 1940s she appeared on-stage in an Agatha Christie play, Appointment with Death, which was seen by Christie who wrote in a note to her, "I hope one day you will play my dear Miss Marple". From 1963–66 she played Mrs. Peace, housekeeper to Reverend Stephen Young (played by Donald Sinden) in the highly rated TV series Our Man At St. Mark's. Hickson played the housekeeper in the Marple film Murder, She Said in 1961 (based on Agatha Christie's original novel 4.50 from Paddington), which starred Margaret Rutherford as Miss Marple. From 1970–71, she played Mrs Pugsley in Bachelor Father. Hickson played Mrs Chambers in Whatever Happened to the Likely Lads? In 1986, she played the part of Mrs. Trellis in Clockwise.
Her stage career included roles in Noël Coward's Blithe Spirit, the Tony Hatch-Jackie Trent 1975 musical The Card, and Alan Ayckbourn's Bedroom Farce, for which she won a 1979 Tony Award for 'Best Featured Actress in a Play'. In 1980 she appeared in yet another Agatha Christie production, as Mrs. Rivington in Why Didn't They Ask Evans?.
The BBC began filming the works of Agatha Christie in the early 1980s, and were conscious of the criticism that had been levelled at the most famous portrayal of Miss Marple given by Margaret Rutherford. In making a new series, the makers determined to remain faithful to the plotlines and locales of Christie's stories, and most importantly to represent Miss Marple as written. Hickson played the role in all 12 adaptations of the novels produced from 1984 to 1992, and received two BAFTA nominations and an OBE. Queen Elizabeth II bestowed the award and was delighted to do so, telling Joan that, as an ardent fan of Agatha Christie and Miss Marple, "You play the part just as one envisages it."
Marriage
Hickson was married to Eric Butler (died 1967), a physician, by whom she had a son and daughter.
Death
Hickson died in Colchester from natural causes, aged 92. She was interred at Sidbury Cemetery in Sidbury, Devon.
Miss Marple filmography
Acting in other Agatha Christie works
Audiobooks