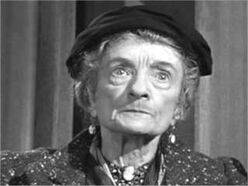 Janet McKenzie is a character from The Witness for the Prosecution.
She was the maid of Emily French the victim for 20 years and clearly saw her as family rather than a employer, so when Leonard Vole comes into the picture, she becomes very bitter and in revenge of French's death she gives plenty of details to the police to get Leonard arrested.
She has appeared in the Stage Play, Films and Television Versions of the Short Story.
Book
Janet is a elder maid that lived with French for 20 years so she was too devoted to her. Her statement about Vole shows that she dislikes him. She said that he convinced French to change her will for his benefit, also he promised her that he would marry her even thought Vole claimed that she knew about his wife Romaine. However the night of the murder, Janet was at church but she returned home at 9:30pm to get a sleeve pattern for a friend, then found the body, Vole remarks that he left 10 minutes before which contradicts  Janet's statement. She testifies in court but after her age leads her into confusion her statement is throw away.
1953 Play
Janet appears in the stage play where she gives her testimony, Sir Wilfrid Robarts remarks on the fact that she might be painting her picture of Vole out of envy for him taking a big inheritance from her and that he notices that she hold her hand to her ear that she might not of heard Vole before French's murder due to the fact she is waiting for a Hearing Aid from the NHS and couldn't hear Robarts speaking quietly thus leaving her statement a little questionable.
1957 Film
Janet is given a extra scene where she is appears in Vole's retelling she sees French come back with him and gives him a grumpy look clearly doesn't hide her hate, when she sees his Egg Beater/Separator she cares little for it throwing it at the sink and tries everything to get Vole to know he's not welcome.
At the end Vole says that he will buy Janet the hearing aid.
She was played by Una O'Connor
1982 Film
Janet was given a extra scene for the opening of her going to get the patten and then finding French's corpse.
She was played by Dame Wendy Hiller.
2016 Series
For the BBC 2 part series Janet's surname was changed to McIntyre and was younger to being the same age as Mrs French.
She is clearly devoted to her and when seeing Vole for the first time she is blunt to telling him that she goes through men so not to get comfortable, later on after French's death, reveals that she never hid her distaste for Vole despite the fact that he was there for good, she spied on him and tried to convince French to end the relationship by finding proof of Vole's wife which didn't work. She also saw Vole through the smog that night, the only thing that the defence lawyer suggests at that moment is that she is a lesbian and was mad in her devotion for French. However after Romaine was exposed Janet was re-questioned but upon the lawyer questioning her mind, she goes to answer back, but the inspector she spoke to earlier, signals her to stop which suggests to the lawyer that she was being coached and maybe influenced the verdict. After Vole being acquitted she tells John Mayhew that he has blood on his hands as she is pulled away. However Mayhew finds the corpse of Mimi the Cat while clearing French's house and declares that Janet was the murderer.
She is arrested and during the trial French's solicitor admits after the will change Janet came to him asking if Vole was guilty of murder what would happened to the estate and he reveals that it would return to it's former state which meant she would inherited a bigger amount. During her hearing she admits to kill Mimi, but due to her wording "it wasn't sorry" sound like she has a mental illness when the prosecution lawyer suggest that she was capable to kill French, she then breaks that she loved her and it seals her fate as the lawyer says that she was obsessed to kill her employer when she loved somebody else and due to her mind pinned everything on a innocent Vole. She found guilty and is hanged with her mind completely gone as she goes to the gallows.
She was played by Monica Dolan.
Trivia
Community content is available under
CC-BY-SA
unless otherwise noted.