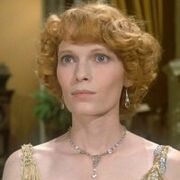 Jacqueline de Bellefort was engaged to Simon Doyle until he left her for her close friend Linnet Ridgeway. She and Linnet had met at a convent school in Paris. After their marriage she stalked the couple to punish them. While on a cruise up the Nile, she drunkenly fired a shot at Simon. Linnet was later shot dead, but both Simon and Jacqueline clearly didn't do it, and are able to forgive each other.
She is called Jackie by her close friends.
Plot
Spoilers Ahead!!
Backstory
Jacqueline was the daughter of a French count and a woman from South Carolina. Her father left the family for another woman, and her mother lost all of her money in the Wall Street crash. As a child, she went to South Carolina with her mother, and her grandfather taught her to shoot.
Book Bio
After she gets engaged to Simon, it's clear he needs a job so she gets him to meet Linnet for a job as a land agent. However, after a few months, he breaks off the engagement with her and marries Linnet. Jackie begins to stalk them as punishment.
After Linnet explains that situation to Hercule Poirot, he talks to Jackie, and advises her to stop what she is doing, and move on, saying that what she is doing will only prolong her suffering. He tells her not to open her heart to evil. She is too heartbroken to listen, saying how she dreams about shooting Linnet with her pistol. She gives an exclamation, saying that she saw someone standing in the shadows. However, Poirot does not see anyone.
Despite Simon and Linnet's attempts to prevent her from following them, Jackie follows them on the Cruise boat on the Nile. Poirot tells her that he is sorry to see her there, because she has "cut the bonds that moored" her to safety, and she could not turn back even if she wanted to. Jackie says that one must follow one's star wherever it leads.
When Linnet is nearly killed by a boulder outside the temple at Abu Simbel, Simon at first suspects that Jackie caused the boulder to fall. However, Jackie was onboard the boat at the time.
On a different occasion, Jackie tells Poirot that Simon and Linnet no longer care whether she follows them or not, and she can no longer hurt them by stalking them. The expression on her face startles him, as it is no longer gay or malicious, and she looks "devoured by some inner consuming fire".
Later that night, Jackie enters the saloon, and sits down with Cornelia Robson. She begins to drink rather heavily, and hums, "He was her man and he did her wrong..." Cornelia tries to leave, but Jackie stops her, and asks her to tell her about herself.
Jackie drunkenly argues with Simon, saying that she had told him that she would kill him sooner than see him go to another woman, and she had only been waiting to make good on this threat. She pulls out a gun, and Simon jumps up to stop her, but she shoots him in the leg.
Jackie is in a hysterical state of remorse, and drops the gun, kicking it away so that it goes under a settee. At Simon's request, she is taken to her cabin by Cornelia and James Fanthorp. For the rest of the night, she is watched by Nurse Bowers, who had administered a does of morphine to her.
The next day when Linnet is found dead, Jackie is told and she reacts in horror. Poirot tells her that she is not a suspect because she has a watertight alibi.
Simon requests to speak to Jackie, and Poirot brings her to him. She tells Simon that she did not kill Linnet, and asks his forgiveness for shooting him She begins to cry, and Poirot leaves them alone.
At lunch later on Jackie comes in catching her breath which is believed to be from speaking to Simon. However after the deaths of Louise Bourget and Salome Otterbourne, Poirot explains the truth.
The Solution
The real killers were Simon and Jackie, who were lovers. The plan was that Simon would marry Linnet, murder her, and then he would get Linnet's money, and he and Jackie would marry.
On the night Linnet died, they drugged Poirot's wine to make sure that he did not get involved. The shot that Jackie fired in the saloon actually went into a table, while Simon pretended to be shot. He made sure that the other witnesses were with Jackie while he murdered Linnet. Returning to the saloon, he shot himself in the leg and threw the gun overboard.
When Simon requested Poirot to bring Jackie to him, it was to get a chance to speak to her alone. After Poirot left them, Simon revealed that Louise knew what he did and wanted money to keep her silence. Jackie took a knife from Dr. Bessner, stabbed Louise, and hid her body.
However, when she left Louise's cabin, she was witnessed by Salome Otterbourne, who upon realizing what had happened started to tell Poirot, Colonel Race, and Simon. Simon shouted at Mrs. Otterbourne and his shouts alerted Jackie to the danger. Jackie then took Andrew Pennington's revolver and shot Mrs. Otterbourne.
Fate
At the end of the novel, Poirot and Colonel Race confront Simon, and he confesses. Jackie is then put in custody in her cabin, with a stewardess accompanying her.
Poirot goes to see Jackie, and she tells him not to mind so much about her. She asks him if it had occurred to him to let her off, and he says no. She then tells him that she feels she is no longer a safe person, because killing people is so easy, and one begins to feel that it does not matter, and that is dangerous.
Jackie tells Poirot that when she saw that Simon had made up his mind to kill Linnet, she was terrified because she knew that he would not be able to pull it off. She had to become his accomplice, to look after him.
At the end of the novel, Jackie and Simon escape conviction. As they were taken off board Jackie shot Simon and herself with another pistol that she had hidden in Rosalie Otterbourne's handbag. Poirot knew, and left her free to escape the noose.
Adaptation
In the 1978 Film version Jackie is played by Mia Farrow, the film is mostly faithful to the story, however the changes to Jackie includes her putting an adder in Poirot's room, her giving money to Louise only to cut her throat not hiding her, the solution , however,is done with the other guests and she confesses everything before using the gun that killed Linnet to kill herself and Simon.
In the Poirot TV Film she was played by Emma Griffiths Malin. The only real change was Jackie pretends when Poirot speaks to her that somebody is watching them. After pleading guilty she admits she made up the spying person.
In the 2022 Kenneth Branagh adaptation, Jacqueline de Bellefort is played by Emma Mackey.
Trivia