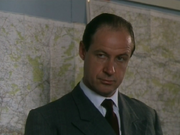 Detective Inspector Slack is an acquaintance of Miss Marple.
In The Murder at the Vicarage, Inspector Slack arrives in St. Mary Mead to investigate the murder of Colonel Protheroe. He comes by car from Much Benham, which is two miles away. He is described as "a dark man, restless and energetic in manner, with black eyes that snapped ceaselessly". Reverend Clement feels that Slack's manner is rude and overbearing.
Appearances
Portrayals
Miss Marple (BBC television)
Slack is played by actor David Horovitch in several episodes of the television series Miss Marple. Due to the success of the character he was added to other episodes in-place of the other detectives.
In They do it with Mirrors (1991), Slack is a Chief Inspector. He replaces Inspector Curry from the original novel. Here he has a hobby of being an amateur conjurer. When Miss Marple sees him with his magician's suitcase, she asks him how they make a person appears to be at two places at the same time. He replies, "They do it with mirrors, ma'am." This gives her the idea of how the crime was committed.
Miss Marple (BBC Radio)
In radio adaptations actors John Baddeley and Stephen Critchlow portrayed Inspector Slack.
Agatha Christie's Marple
Actor Stephen Tompkinson portrayed Inspector Slack in the 2004 episode The Murder at the Vicarage.