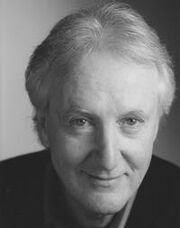 Hugh Fraser (born 23 October 1945) is an English actor and theatre director.
Early life
Born in London but brought up in the Midlands, Fraser studied acting at the Webber Douglas Academy of Dramatic Art and the London Academy of Music and Dramatic Art. He was also a member of Telltale, a folk band that wrote and performed the theme music for Rainbow, a children's television series.
Work
Fraser's first big break came after portraying Anthony Eden in the 1978 television series Edward & Mrs. Simpson, with Edward Fox, after which he was frequently cast as upper class or aristocratic characters, such as Mr Talmann in Peter Greenaway's The Draughtsman's Contract.
He has regularly appeared on film and in television and is best known for his portrayal of Captain Hastings in the television series Agatha Christie's Poirot opposite David Suchet, and his role as the Duke of Wellington (replacing David Troughton) in the Sharpe television series.
In the 1980s, he appeared in the BBC thriller Edge of Darkness. Although he has not appeared in recent episodes of Agatha Christie's Poirot, Fraser can be frequently heard narrating the audiobooks of Christie's works, which are currently published by HarperCollins publishers. As of recent years, he has been an associate tutor, director and member of the audition panel at the Royal Academy of Dramatic Art, specialising in Shakespeare. Fraser has also directed several plays, most notably a production of David Mamet's adaptation of Chekhov's Uncle Vanya, which was staged at Wilton's Music Hall in London in January 2007, with Rachael Stirling as Yelena.
His film credits include Curse of the Pink Panther, 101 Dalmatians and Patriot Games along with his Sharpe co-star Sean Bean. He has also worked in theatre, playing Claudio in Much Ado About Nothing with the Royal Shakespeare Company in 1979. In 2007, he guest starred in the Doctor Who audio drama Circular Time and in 2003, alongside Martin Shaw in Death in Holy Orders.
Personal life
He is married to the actress Belinda Lang and has one daughter, Lily.
Selected film and television roles
Agatha Christie's Poirot (1989–2002 and 2013) - as Captain Arthur Hastings
Sharpe (1994–2006) - as the Duke of Wellington
New Tricks Episode 1.5 (2004) - as Paul Adamson
The Alan Clark Diaries (2004) - as Tristan Garel-Jones
Death in Holy Orders (2003) - as George Gregory
101 Dalmatians (1996) - as Frederick
Patriot Games (1992) - as Geoffrey Watkins
Lorna Doone (1990) - as King James II
Jack the Ripper (1988) - as Sir Charles Warren
Codename: Kyril (1988) - as Peter Jackson
Edge of Darkness (1985) - as Robert Bennett
Reilly, Ace of Spies (1983) - as Capt. George Hill
Curse of the Pink Panther (1983) - as Dr. Arno Stang
The Draughtsman's Contract (1982) - as Mr Talmann
Cloud Howe (1982) as Robert Colquhoun
Firefox (1982) - as Police Inspector Tortyev
Hanover Street (1979) - as Capt. Harold Lester
The Man in the Iron Mask (1977) - as Montfleury