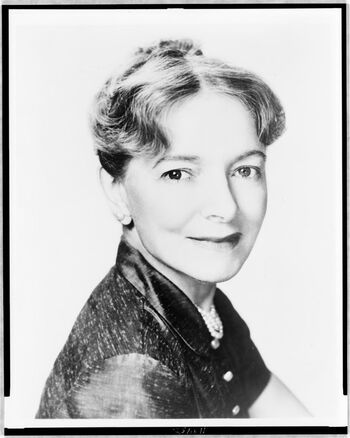 Helen Hayes Brown (October 10, 1900 – March 17, 1993) was an American actress whose career spanned almost 70 years. She eventually garnered the nickname "First Lady of the American Theatre" and was one of eleven people who have won an Emmy, a Grammy, an Oscar and a Tony Award. Hayes also received the Presidential Medal of Freedom, America's highest civilian honor, from President Ronald Reagan in 1986. In 1988, she was awarded the National Medal of Arts. The annual Helen Hayes Awards, which have recognized excellence in professional theatre in the greater Washington, D.C. area since 1984, are her namesake. In 1955 the former Fulton Theatre on 46th Street in New York City's Broadway Theater District was renamed the Helen Hayes Theatre. When that venue was torn down in 1982, the nearby Little Theatre was renamed in her honor.
Early life
Helen Hayes was born in Washington D.C. on October 10, 1900. Her mother, Catherine Estelle (née Hayes), or Essie, was an aspiring actress who worked in touring companies. Her father, Francis van Arnum Brown, worked at a number of jobs, including as a clerk at the Washington Patent Office and as a manager and salesman for a wholesale butcher. Hayes' Irish Catholic maternal grandparents emigrated from Ireland during the Irish Potato Famine.
Hayes began a stage career at an early age. She said her stage debut was as a 5-year-old singer at Washington's Belasco Theatre (on Lafayette Square, across from the White House.) By the age of ten, she had made a short film called Jean and the Calico Doll, but moved to Hollywood only when her husband, playwright Charles MacArthur, signed a Hollywood deal. She attended the Academy of the Sacred Heart Convent in Washington and graduated in 1917.
Career
Her sound film debut was The Sin of Madelon Claudet, for which she won the Academy Award for Best Actress. She followed that with starring roles in Arrowsmith (with Myrna Loy), A Farewell to Arms (with actor Gary Cooper, whom Hayes admitted to finding extremely attractive), The White Sister, What Every Woman Knows (a reprise from her Broadway hit) and Vanessa: Her Love Story. However, she never became a fan favorite and Hayes did not prefer the medium to the stage.
Hayes eventually returned to Broadway in 1935, where for three years she played the title role in the Gilbert Miller production of Victoria Regina, with Vincent Price as Prince Albert, first at the Broadhurst Theatre and later at the Martin Beck Theatre.
In 1953, she was the first-ever recipient of the Sarah Siddons Award for her work in Chicago theatre, repeating as the winner in 1969. She returned to Hollywood in the 1950s, and her film star began to rise. She starred in My Son John (1952) and Anastasia (1956), and won the Academy Award for Best Supporting Actress for her role as an elderly stowaway in the disaster film Airport (1970). She followed that up with several roles in Disney films such as Herbie Rides Again, One of Our Dinosaurs is Missing and Candleshoe. Her performance in Anastasia was considered a comeback—she had suspended her career for several years due to the death of her daughter Mary, and her husband's failing health.
In 1955 the Fulton Theatre was renamed for her. However, business interests in the 1980s wished to raze that theatre and four others to construct a large hotel that included the Marquis Theatre. To accomplish razing this theatre and three others, as well as the Hotel Astor, the business interests received Hayes' consent to raze the theatre named for her, even though she had no ownership interest in the buildings. Parts of the original Helen Hayes theatre on Broadway were used to construct The Shakespeare Center on the Upper Westside of Manhattan, which Hayes dedicated with Joseph Papp in 1982. In 1983 the Little Theater on West 45th Street was renamed The Helen Hayes Theatre in her honor, as was a theatre in Nyack, which has since been renamed the Riverspace-Arts Center.
It is unclear who or when Hayes was called the "First Lady of the Theatre". Her friend, actress Katharine Cornell also held that title, and each thought that the other deserved it. One critic said that Cornell played every Queen as though she were a woman, whereas Hayes played every woman as though she were a Queen.
In 1982, with friend Lady Bird Johnson, she founded the National Wildflower Research Center, now the Lady Bird Johnson Wildflower Center in Austin, Texas. The center protects and preserves North America's native plants and natural landscapes.
The Helen Hayes Award for theater in the Washington D.C. area is named in her honor. She has a star on the Hollywood Walk of Fame at 6220 Hollywood Blvd.
Personal life
Hayes was a Catholic and a pro-business Republican who attended many Republican National Conventions (including the one held in New Orleans in 1988), but she was not as politically vocal as some others (e.g., Adolphe Menjou, Ginger Rogers, John Wayne, Ronald Reagan etc.) in the Hollywood community of that time.
Hayes wrote three memoirs: A Gift of Joy, On Reflection and My Life in Three Acts. Some of the themes in these books include her return to Roman Catholicism (she had been denied communion from the Church for the length of her marriage to MacArthur, who was a Protestant and a divorcé); and the death of her only daughter, Mary, who was an aspiring actress, from polio at the age of 19. Hayes's adopted son, James MacArthur, went on to a career in acting, starring in Hawaii Five-O on television. (Hayes herself guest starred on a 1975 episode of Hawaii Five-0, playing the aunt of MacArthur's character.)
Hayes was hospitalized a number of times for her asthma condition, which was aggravated by stage dust, forcing her to retire from legitimate theater in 1971, at age 71.
Her last Broadway show was a 1970 revival of Harvey, in which she co-starred with James Stewart. Clive Barnes wrote "She epitomizes flustered charm almost as if it were a style of acting...She is one of those actors...where to watch how she is doing something is almost as pleasurable as what she is doing." She spent most of her last years writing and raising money for organizations that fight asthma.
Philanthropy
Hayes was a generous donor of time and money to a number of causes and organizations, including the Riverside Shakespeare Company of New York City. Along with Mildred Natwick, she became a founding member of the company's Board of Advisors in 1981. She was also on the board of directors for the Greater New York Council of the Girl Scouts of the USA during the early 1970s.
In 1982, Hayes dedicated Riverside's The Shakespeare Center with New York theatre producer, Joseph Papp, and in 1985 returned to the New York stage in a benefit reading for the company with a reading of A Christmas Carol with the late Raul Julia, Len Cariou, Mary Elizabeth Mastrantonio, Carole Shelley, Celeste Holm and Harold Scott, directed by W. Stuart McDowell. The next year Hayes performed a second benefit for the Riverside Shakespeare Company, this time at the Marquis Theatre, the construction of which had been made possible by the demolition of the Helen Hayes Theatre three years before. The production featured Rex Smith, Ossie Davis and F. Murray Abraham, produced by McDowell and directed by Robert Small, with Hayes narrating the performance.
Death
Hayes died on St. Patrick's Day,1993 from congestive heart failure in Nyack, New York. Lillian Gish had designated Hayes as beneficiary of her estate, but Hayes survived her by less than a month. Hayes was interred in the Oak Hill Cemetery, Nyack, New York. In 2011, she was honored with a US postage stamp.
Quotes
"The hardest years in life are the ones that live upon life itself." (age 64)
"If you rest, you rust." (ca. age 60)
"From your parents you learn love and laughter and how to put one foot in front of the other. But when books are opened you discover you have wings."
"I'm absolutely crazy about life...about the value of living and doing. I have a belief, too, that's there's another world out there and that one day I will be joining Charlie and Mary (the daughter who died at 19 from polio) and other people I love, and it consoles me to think about that."
Filmography relevant to Agatha Christie