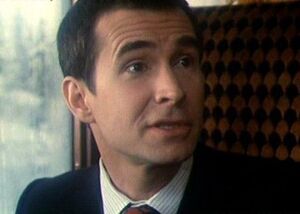 Hector Willard MacQueen[1] is one of the main characters in Murder on the Orient Express, who acts as the secretary of Mr. Ratchett, primarily helping him navigate the various languages of Europe in his travels.
MacQueen has been portrayed on screen by various actors, including Anthony Perkins, Adam James, Brian Smith, and Josh Gad.
Biography
At the time of the current events of the story, MacQueen is 30 years old.[2]
MacQueen's father was the District Attorney in charge of the Armstrong case, advising the Armstrong family after the kidnap of Daisy Armstrong. MacQueen himself had met Mrs. Armstong more than once when his father met with the Armstrongs. MacQueen recalled that she was a lovely woman, "so gentle and heartbroken".
A gangster named Cassetti was arrested and put on trial for the kidnap and murder of Daisy Armstrong but got off on a technicality because of his wealth and influence. Linda Arden, Daisy's grandmother, gathered a group of interested parties for the purpose of avenging the crime and bringing the criminal to justice. MacQueen joined the group. Another member of the group, the private detective Cyrus Hardman was assigned to find Cassetti who had by then the alias of Samuel Edward Ratchett. Thereafter, other members of the group managed to infiltrate Ratchett's staff. Edward Masterman managed to gain employment as his valet and MacQueen became his secretary.
The Orient Express
MacQueen's position gave him insight and control over the travel plans of his employer, who made frequent journeys between Europe and the Middle-east in pursuit of his art collecting hobby. Based on MacQueen's information, the group was able to board the same train as Ratchett to implement their plan to execute him enroute.
During this journey MacQueen travelled in compartment 6-7 on the Calais coach. He had booked as a single with a made-up booking for a fictitious "Mr Harris". However he was obliged to share the compartment with Poirot on the first night out of Istanbul because Monsieur Bouc, a director of the company had insisted that Poirot be accommodated.
During the night of the Ratchett's murder, he had been summoned at about 10 p.m. to take down a memoranda from Ratchett about some tiles and pottery purchased in Persia. Thereafter he supposedly spent the night talking with Colonel Arbuthnot.
After the murder of Ratchett, MacQueen told Poirot that he and some friends had come to the Middle-east to look into an oil concession but had failed badly. Ratchett had been staying in the same hotel and just had a row with his secretary. MacQueen got the job as his secretary after the old secretary was fired. This was just over a year before.[3] MacQueen told Poirot that since Ratchett did not know many languages, he sometimes acted more as a "courier" for his employer than as a secretary. He also showed Poirot "threatening letters" which he said Ratchett received. He also told Poirot that Ratchett had torn one up in a rage.
Portrayals
Murder on the Orient Express (1974)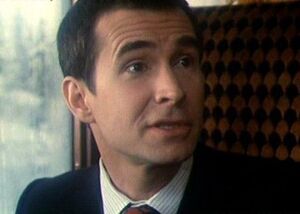 In the 1974 film, MacQueen is played by Anthony Perkins, an actor who was most famous for playing Norman Bates in the 1960 thriller Psycho.
The portrayal is faithful to the original novel with some embellishments to his backstory. MacQueen is among the few characters not introduced with the Armstrong Kidnapping scene but is only first seen when boarding the Orient Express with Ratchett. He had arranged to be alone in the lower berth of Compartment 4 but was surprised when Monsieur Bouc, the director of the line, insisted that Hercule Poirot shared the space as there was no other vacancy on board. After one night, Poirot is later moved to Compartment 9.
After Ratchett's murder, Poirot's interview with MacQueen runs on the same lines as the novel. He had worked for Ratchett for a year. Ratchett was collecting Gorgon pottery while MacQueen had ventured into an oil concession but had gone bankrupt so he got a job as Ratchett's secretary or more "as his courier", translating languages for him. He claimed he didn't know much about Ratchett's background, only that he thought Ratchett had left the United States to escape something and succeeded until 2 weeks before boarding the train, when he began to receive threatening letters.
Later when Poirot reveals that Ratchett is actually Cassetti, MacQueen admits that he hates the person and wished he had killed him with his left hand. His father was the District Attorney in charge of the case. Colonel Armstrong and his wife Sonia went to MacQueen's house twice asking for advice about the ransom money. MacQueen recalled fondly that Mrs Armstrong, although distressed, took an interest in him and his ambition to become an actor. She promised to write some letters of introduction for him but died in childbirth before that could happen.
Poirot notes that MacQueen cried out for his mother twice while sleeping. MacQueen explains that his mother died when he was eight, an impressionable age.
In the reconstruction of the murder/flashback during the denouement, MacQueen is shown as the person who drugged Ratchett. During the murder itself, MacQueen receives the knife from Princess Dragomiroff, and stabs Ratchett for Sonia Armstrong, and then hands it to Beddoes. MacQueen is the tenth person to stab Ratchett, and does so with his left hand, saying, "For Mother Armstrong".
Murder on the Orient Express (2001)
In the 2001 TV movie, MacQueen is played by Adam James. The name is changed to William MacQueen. He graduated with a Degree in Ancient Mesopotamian Art from Yale University and had also worked at a museum where Sonia Armstrong was on the board.
Subsequently, Ratchett hired MacQueen to be his consultant and assistant because he wanted expertise to help in his business of buying and selling ancient artworks. MacQueen originally thought that Ratchett was into business, but later found out that he was looting archaeological sites. He tried to get away from Ratchett, but had difficulty doing so.
Poirot interviewed MacQueen twice after Ratchett's murder. MacQueen had an alibi supported by Pierre Michel. He was with Foscarelli, Bob Arbuthnot and Mary Debenham drinking and talking politics.
When Poirot revealed that Ratchett was actually Cassetti, Macqueen let slip that he knew Sonia Armstrong. The museum he worked in was trying to raise money for an Etruscan funerary exhibit, and Sonia ended up solely funding the entire exhibit. MacQueen thought she was funny and beautiful. He couldn't believe he ended working for the man responsible for Daisy's death. He insisted he didn't kill Cassetti, but wishes that he had. He also said the whole United States followed the Armstrong case, saying it was the biggest one since the O. J. Simpson murders.
In this adaptation, MacQueen is shown drugging Ratchett's drink. Ratchett regularly took melatonin while travelling. MacQueen switched them for a sleeping drug and served it to his employer.
In a voiceover at the end of the show, Poirot says that MacQueen subsequenlty became the curator of the Arbuthnot Wing of the Seattle Museum of Art.
Agatha Christie's Murder on the Orient Express video game (2006)
In the 2006 video game adaptation, MacQueen is voiced by Armando Valdes-Kennedy. He occupies room 3-4 on the Calais coach.
According to his passport, his full name is Hector Willard MacQueen, which is the same as in the novel. His date of birth is 8 May 1906. His occupation is oil broker. He says that he met Ratchett when he went to Persia. He had been unsuccessful in trying to get an oil concession and took up a job with Ratchett instead. This is faithful to the book. His address is 58 Warren Street which is in Tribeca, New York
Agatha Christie's Poirot: Murder on the Orient Express (2010)
In the 2010 adaptation, MacQueen's portrayal is close to the original novel. Soon after Ratchett's murder, even before Poirot interviews him, he admits that his father was the D.A. in the Cassetti case to the other passengers assembled in the lounge car. He is concerned that Poirot will discover this and implicate him.
During the denouement, MacQueen admits that Cassetti, using his Mafia connections had threatened to kill Hector if his father, the prosecuting D.A. did not rig the trial to let Cassetti go. So he complied and he ended his career in shame. This mechanism for Cassetti's acquittal is only found in this adaptation.
Murder on the Orient Express (2017)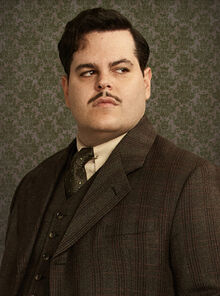 In the 2017 film, MacQueen is played by Josh Gad.
MacQueen is first seen with Edward Masterman, asking Masterman if he has everything they need for the trip on the Orient Express. Masterman replies that he has made sure of it.
MacQueen is later seen in his compartment when Poirot arrives. MacQueen talks with Poirot in French, and Poirot explains that he is sleeping in the lower berth, while MacQueen takes the upper berth. After a silent pause, Poirot says that he is equally disappointed in MacQueen.
MacQueen is later seen in the dining car with Edward Ratchett. He gets up to allow Poirot to take his seat, but Poirot tells him that it is all right, and that he has an appointment with the Director of the Line: Xavier Bouc. MacQueen also sees Mary Debenham walk out after confronting Gerhard Hardman about his racist views.
That night, the train crashes due to an sudden cascading avalanche; the train derails on a bridge overlooking a deep, icy canyon.
The next morning, Poirot announces that Ratchett has died. MacQueen quips to Masterman, "Looks like they got him after all." Poirot asks if MacQueen assumed that Ratchett was killed, and MacQueen says that he was in perfectly good health, but had enemies; Poirot confirms that Ratchett was murdered.
As MacQueen drinks Kentucky bourbon out of his canteen, Bouc comments if it is really the time for drinking. MacQueen responds that his employer is dead and he is out of a job, and Bouc and Poirot are looking at him suspiciously. MacQueen explains that he was Ratchett's secretary; he would mostly book the travelling arrangments. He also says that Ratchett ate more steak than anyone he's ever seen. Ratchett was interested in antiques, but had no tolerance for business or accounting.
MacQueen had attended law school to become a lawyer, but was awful at being at it. Being a heavy bourbon drinker, the Wartime Prohibition Act didn't suit him well, so he went overseas and found himself in debt.
MacQueen came into Ratchett's employment 345 days before the events of the film, at an auction house in Riga, Latvia. MacQueen and Ratchett were competing for a set of Iznik vases. MacQueen didn't have the money to make a serious play, while Ratchett did, outbid MacQueen, and won. Ratchett liked MacQueen's taste in antiquities, so he asked MacQueen what the price would be to work for him. MacQueen aimed high and got the job working as Ratchett's secretary[4].
MacQueen also admits that he was fond of Ratchett's money, and says that Ratchett was crude, demanding, insulting, and felonious. Just after 10:00 the previous night, Ratchett called him into his compartment to go over their sales in Milan, Italy. Ratchett had sold a set of Safavid carpets - actually forgeries - and made a lot of money in the process, but angered the Italians. Ratchett wanted to go over the financial accounts and receipts from the sale, and MacQueen had to translate them, as the financial contracts were in French, which Ratchett didn't speak.
While at Belgrade Station, MacQueen struck up a conversation with Dr. Arbuthnot, who had odd opinions about Joseph Stalin. MacQueen explains to Poirot that he is not racist, but doesn't like the British, calling them a "pompous bunch of tea sops". The conversation between MacQueen and Arbuthnot ended after 2:00.
Poirot asks if MacQueen knew any specific enemies of Ratchett, and MacQueen said that Ratchett had several, and had recieved nasty letters from them. He shows Poirot the ones he had salvaged while Ratchett tore up the others and burnt them.
MacQueen then recommends Poirot to talk to Biniamino Marquez, a Latin car salesman, commenting that his type don't have the same distaste for murder that he does. Poirot says that MacQueen mentioned he is not racist, but MacQueen replies, "I suppose... it depends on the race", before walking back to the lunch car and lighting a cigarette.
When Poirot and Bouc find a conductor's uniform - believed to belong to the murderer - in Fraulein Schmidt's compartment, they smell bourbon on the jacket, and the only passenger who drinks bourbon is MacQueen. They dig through Ratchett's suitcase and uncover £500 in a search for the name of MacQueen's ledger whom Ratchett dealt with. As they search, they see MacQueen walking alongside the train. Poirot tells Bouc to keep everyone inside as he chases MacQueen down the framework of the bridge. MacQueen, carrying Ratchett's financial accounts, burns them with a match and throws them into a barrel. MacQueen tries to escape Poirot, but eventually the two of them fall through the framework. Poirot falls to a lower level than MacQueen, but the rope holding the platform together snaps, sending MacQueen falling to the bottom of the chasm. Poirot tells MacQueen to stay where he is, and Poirot and Bouc take MacQueen all the way back into the train.
During MacQueen's loud interrogation, Poirot confronts MacQueen about burning Ratchett's accounts, which are still legible in certain places. He reveals that the prices on the accounts do not add up because MacQueen has been stealing from Ratchett. It turns out that MacQueen stole £1,200 from the receipts used in the Milan sale; the original total was £29,200. Because of this affair, Ratchett had been planning to switch banks. MacQueen admits that he has been stealing thousands of dollars from Ratchett because he knew that Ratchett's money wasn't honest, but did not kill Ratchett, asking, "Why would I slaughter my cash cow?"
Dr. Arbuthnot arrives and confirms MacQueen did not kill Ratchett as his alibi revolves around him. Arbuthnot remarked the quality of American liquor to be less than that of British liquor. To change his mind, MacQueen offered him a tipple, to which he obliged, and this led to both MacQueen and Arbuthnot drinking, smoking, and arguing about politics until 2:00.
After Arbuthnot's interview, Poirot returns to MacQueen's compartment, and tells him that he is lucky that Arbuthnot vouched for him, but he still thinks that MacQueen killed Ratchett, as he had easy access to Ratchett's sleeping draught, and could have spiked it with barbital, and done the same to Arbuthnot's many drinks they had the previous night.
Bouc says that they have established his motive, but Poirot suggests a more personal motive to killing Ratchett. Reiterating what MacQueen said earlier about pursuing the law, yet not becoming a lawyer, Poirot suggests that MacQueen pursued the law to appease his much loved yet demanding father, who had made a great success in the same field as the District Attorney for the State of New Jersey, and then lost his renowned position during his most famous case: the prosecution of the Armstrong case.
A tearful MacQueen confesses that the court didn't have a suspect, so they pressured MacQueen's father to go after Susanne, the Armstrong's French maid with a weak alibi. The elder MacQueen hung his entire case on her, and accused her of kidnapping and murdering Daisy Armstrong. The court showed a guilty verdict for her, and she subsequently committed suicide, only to be proven innocent later on. By the time the evidence led to Cassetti, it was too late, as he had already fled the country. Realizing they had pressured an innocent woman into committing suicide, the court severely criticized the elder MacQueen, who resigned from his position as District Attorney in disgrace. The younger MacQueen couldn't do anything for his father, and felt terrible about it.
Poirot then accuses MacQueen of killing Ratchett as a means of bloodlust revenge to settle the score. Suddenly, they all hear Mrs. Hubbard screaming; Poirot and Bouc rush to her aid.
MacQueen is later gathered along with everyone else. Poirot reveals them all to be the murderers, and in order for them to go free, they'll have to kill him. Mrs. Hubbard, revealed to be Linda Arden - the leader of the jury - takes Hardman's gun - which Poirot had confiscated and presented to them - and aims it at him, but then tries to kill herself. When she pulls the trigger, however, she does not die; Poirot had unloaded the gun and tested them.
Physical Description
In the novel, MacQueen is a tall, handsome man of about thirty. He speaks bits of French, German, and Italian.
In the 1974 film, MacQueen has dark brown hair and eyes, and a lanky build.

He wears a navy blue blazer jacket with a golden University insignia, a multicolored argyle jaquard sweater-vest, a white shirt, a red-and-black club tie, grey flannel pants, and black oxford shoes.

In the 2001 TV movie, MacQueen has brown hair and brown eyes.

His usual outfit is a light blue button-down shirt, a brown leather belt, cream-colored trousers, and brown oxford shoes.
For the outside scenes, MacQueen wears the same outfit, but with a cream-colored track jacket with a red ring around the collar.
In his other scenes on the train, he wears an unbuttoned black suit, a pale grey shirt, a light grey tie, and black oxford shoes.
For his introductory scene, MacQueen wears an unbuttoned light-grey suit, the light blue shirt, a blue-and-dark-grey-striped club tie, and the brown oxfords.

In the 2017 film, MacQueen has dark brown hair pulled back in a small quiff, brown eyes, a dark brown pencil moustache, and a portly build.

His usual attire is a black non-rolled three-piece suit in burgundy Prince of Wales plaid. The suit includes a three-buttoned jacket with wide notch lapels, a high waistcoat, and high rise trousers. He also wears a white micro-patterned subtle spearpoint-collared shirt with a collar bar, a grey triangle-patterned tie, and black oxford shoes.
Trivia
MacQueen admits that he is not a linguist but speaks bits of French, German, and Italian.
In some adaptations, MacQueen attends an Ivy League University.

In the 2001 TV movie, MacQueen attended Yale University.
In the 2006 video-game, MacQueen attended Princeton University.
In the 2017 film, MacQueen says that he is a lawyer by education, and the Armstrong Kidnapping took place in New Jersey; Princeton University is the only Ivy League University in New Jersey, and it does not hand out law degrees.

In the 1974 film, MacQueen is played by Anthony Perkins, who played a very similar character in Psycho (1960).

Both men have a stutter, lost their mothers at a young age, and are murderers.

However, Norman Bates in Psycho both killed his mother when he was still a kid, and murdered her lover because he was insane. MacQueen killed Ratchett as justice for the lives he had claimed, including his mother figure.

Both characters are questioned by a character played by Martin Balsam.

In the 2001 TV movie, MacQueen mentions that Cassetti's trial was "the biggest case since O.J.", a reference to the O.J. Simpson murder trial.
In the 2006 video-game, MacQueen's address is 58 Warren Street, New York City, New York.

This is a real address, though not residential: this address belongs to The Mysterious Bookshop in Tribeca.
References