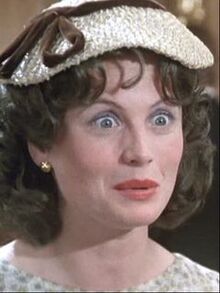 Heather Badcock was a woman living in St. Mary Mead with her husband Arthur. She is the main victim in the story The Mirror Crack'd from Side to Side.
Heather was described as a "plump squarely built woman of about forty", with "brown hair just turning grey, blue eyes, and a big generous mouth". She and Arthur lived at No. 3 Arlington Close in The Development.
Role in Story
Personalty wise, Heather Badcock was a sweet person. She helped Miss Marple after she fell while walking in The Development. She was a kind person. However, she did not have any consideration for how her actions might affect other people. She always thought of what an action meant to her, and not what it might mean to anyone else. Heather reminded Miss Marple of Alison Wilde.
Heather was the secretary of the St. John Ambulance Corps. During the fête at Gossington Hall, she was invited with her husband and Dolly Bantry to meet Jason Rudd and Marina Gregg. Several years before she had met Marina Gregg so she delighted in retelling the story. However, while she was speaking, Marina's face took on a frozen look.
Afterwards Jason poured daiquiris for Heather and Marina. Someone jogged Heather's elbow, causing her to spill her drink on her dress. A little of her drink was spilled on Marina's dress as well. Marina offered Heather her handkerchief to dry her dress, and gave Heather her own glass. Heather did not want to take it at first, but she accepted it in the end, and drank it rather quickly. Shortly after that, she sat down, saying that she felt "a little queer". All of a sudden, she gave a quick gasp, and then she died. The inquest revealed that death was due to a fatal amount of the tranquilizer Calmo.
It is later revealed that when Heather met Marina in Bermuda years ago, she had been suffering from German measles. She was told to stay in bed, but she didn't feel that she was very ill so got out of bed and hid the rash with makeup and went out to meet Marina, without thinking of that she could infect those she came into contact with. What Heather had not realised was that Marina had contracted German measles during the early stages of her pregnancy, and because of this her child was born mentally afflicted. Marina had not known how, when, or from whom she had contracted the infection, until Heather told her at the reception. Heather's delight in telling her made Marina lose her mind. Marina poisoned her own cocktail, bumped into Heather, causing her to spill her cocktail, and gave her the poisoned glass instead.
Portrayals
In the EMI films 1980 adaptation, the character is renamed "Heather Babcock". Here she is not married but otherwise the portrayal is quite faithful to the original. The part of Heather Babcock is played by Maureen Bennett.
In the 1992 BBC adaptation, the character of Heather Badcock is played by Judy Cornwell who would later play Miss Marple in a stage version of A Murder is Announced.
In ITV's 2010 adaptation of the novel, the part of Heather Badcock is played by Caroline Quentin.
In Le miroir se brisa, the French TV film adaptation of the novel by France Télévisions, the parallel character is named "Simone Maupin". Here she is employed as a double for the Marina Gregg parallel Blanche Dulac in a film. They meet at the film studio and she is poisoned there. In this adaptation, Simone has a son Gerorges Maupin who later gives the crucial investigative lead to Commissaire Laurence. The part of Simone Maupin is played by Adeline Fleur Baude.
In the 2019 stage adaptation the character is renamed "Heather Leigh" and played by Katherine Manners.