Hallowe'en Party is a work of detective fiction by Agatha Christie and first published in the UK by the Collins Crime Club in November 1969 and in the US by Dodd, Mead and Company later in the same year. The UK edition retailed for twenty-five shillings. In preparation for decimalisation on February 15, 1971, it was also priced on the dustjacket at £1.25. The US edition retailed at $5.95.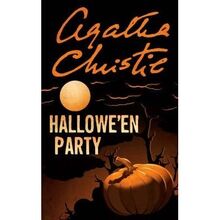 The novel features her Belgian detective Hercule Poirot and the mystery novelist Ariadne Oliver. The novel focuses on child murder (with its possible sexual motivation), the irresponsibility of teenagers and the crisis in crime and punishment. This book was dedicated to P.G. Wodehouse.
Plot introduction
During the preparation of a Hallowe'en party, a girl named Joyce Reynolds tells everyone, including Mrs. Oliver, that she saw a murder once, but only recently realized that it was a murder that she had seen. At the end of the party, Joyce is found drowned in an apple-bobbing tub. With Mrs. Oliver's help, Hercule Poirot must unmask the real evil of the night.
Plot summary
(may contain spoilers - click on expand to read)
The story starts out inside Rowena Drake's house, which is called "Apple Trees". There, Ariadne Oliver and others are preparing a Hallowe'en party for children. Those in charge of the party are Judith Butler, Mrs. Oliver's friend; Leopold, Joyce and Anne Reynolds, Desmond Holland, Nicholas Ransom, Cathie Johnson, Elizabeth Whittaker, Beatrice Ardley, and others. While they are preparing, thirteen-year old Joyce Reynolds says that she once saw a murder. Everyone, including Mrs. Oliver, thinks she is lying.
The party consists of many Hallowe'en-related activities. Mrs. Goodbody plays the role of a witch, and girls can look into a mirror to know what their future husbands will look like (a picture of the husband is said to be reflected in the mirror). The group has supper, the prizes are granted, and the party ends after a game of snapdragon, with the murder of course fitting into the whole situation.
The next day, Mrs. Oliver goes to London seeking Hercule Poirot's help. She tells him that after snapdragon, Joyce went missing and was later found drowned in an apple-bobbing tub in the library. Mrs. Oliver repeats to Poirot Joyce's comment that she had once witnessed a murder; Mrs. Oliver now wonders if Joyce might have been telling the truth, which might provide someone with a motive for killing her.
Poirot goes to Apple Trees to interview Rowena Drake. Rowena doesn't believe Joyce's murder story; rather, she thinks it was just Joyce's attempt to impress Mrs. Oliver. Next to be interviewed are the Reynoldses. Mrs. Reynolds can't say that Joyce ever told her that she saw a murder. Leopold, Joyce's younger brother, doesn't believe that Joyce saw a murder either, but he did hear Joyce telling everyone about it. Ann, Joyce's older sister, doesn't believe either that Joyce had seen a murder; she says Joyce was a liar and a fraud.
Hercule Poirot asks his old friend, an ex-superintendent named Spence, to give him a list of murders which had taken place years before and that could possibly be the murder that Joyce claimed to have witnessed. Spence obliges: Mrs. Llewellyn-Smythe, the aunt of Rowena Drake's late husband, apparently died of a heart attack. Her death is suspicious because a codicil to her will was discovered afterwards. Authorities believe that the codicil was faked by an au pair girl, Olga Seminoff, who disappeared after the forgery was discovered. Other candidate murders involve Charlotte Benfield, a sixteen-year-old shop assistant found dead of multiple head injuries, with two young men under suspicion; Lesley Ferrier, a lawyer's clerk who was stabbed in the back; and Janet White, a schoolteacher who was strangled. Hercule Poirot thinks Janet White's murder is the most probable candidate for the murder Joyce witnessed, because strangulation might not appear at first sight to be murder.
Hercule Poirot continues his investigation by interviewing Dr. Ferguson, who tells Poirot that Joyce was once his patient. When Poirot goes to the Elms School, he is greeted by the headmistress, Miss Emlyn. Meanwhile, a mathematics teacher named Elizabeth Whittaker, who was also present at the party, gives Hercule Poirot an important piece of evidence when she reveals that while the party-goers were playing Snapdragon, Elizabeth went out to hall and saw Rowena Drake coming out of the lavatory on the first floor landing. Rowena stood for a moment before coming downstairs, looking startled by something or someone she may have seen in the open door of the library, and then dropped the flower vase she was holding. Other suggestive pieces of evidence include the fact that Lesley Ferrier had previously been suspected of forgery. Were Lesley and Olga working together to secure Mrs. Llewellyn-Smythe's inheritance?
Poirot visits a sunken garden built for Mrs. Llewellyn-Smythe in an abandoned quarry, where he meets Michael Garfield, the handsome and talented young man who designed the garden. While there, he also meets Judith Butler's daughter, Miranda Butler, a striking young girl who is close to Michael and spends a great deal of time in the Quarry Garden.
Mrs. Drake meets Poirot at his guest house to tell him that Leopold Reynolds, Joyce's younger brother, has been drowned. Poirot reveals that Leopold had been blackmailing Joyce's murderer and had got in over his head. Mrs. Drake, obviously very upset by Leopold's death, admits that she saw Leopold in the library, which caused her to think he might have killed his sister.
Poirot persuades the police to dig up an abandoned well in the Quarry Garden. Within its depths are discovered the remains of Olga, who had been stabbed, like Ferrier. Poirot sends Mrs. Oliver to get Mrs. Butler and Miranda safely away from the village as soon as possible, but when they stop for lunch, Miranda is abducted by Michael Garfield, who takes her to a pagan sacrificial altar and tries to kill her. He is prevented from doing so by Nicholas Ransom and Desmond Holland, two teenagers who had been at the Hallowe'en party and whom Poirot had persuaded to trail Miranda. Michael Garfield commits suicide by swallowing the poison that he had intended Miranda to drink.
Miranda Butler tells the authorities that she was the one who saw a murder, not her close friend Joyce, to whom she revealed some of the details of what she witnessed. Miranda admits that in the Quarry garden she saw Michael Garfield and Rowena Drake carrying Olga's dead body and heard Mrs. Drake wonder aloud if anyone was watching them. Joyce, an inveterate fantasist, had made the story her own, and since Miranda had not attended the party, she hadn't contradicted Joyce. Rowena Drake heard Joyce and thought that it was Joyce who had seen her and Michael with Olga's corpse. Drake had always sensed that someone was watching them that fateful day. Mrs. Drake intentionally dropped the vase of flowers in front of Miss Whittaker to invent a pretext for being wet after having drowned Joyce. Subsequently, Leopold had used what little he knew to blackmail Rowena, leading to his murder. Mrs. Rowena Drake and Michael Garfields were the 2 killers of the 2 murders that took place.
Michael Garfield played the role of lover to Olga to help Rowena Drake secure Mrs. Llewellyn-Smythe's inheritance. The real will, leaving Mrs. Llewellyn-Smythe's fortune to Olga, had been replaced with a clumsy forgery, produced by Lesley Ferrier, which would be rendered invalid and Rowena Drake, the sexually-frustrated wife of an invalid, would ultimately control Mrs. Llewellyn-Smythe's estate as her closest relation. Lesley Ferrier and Olga Seminoff were murdered to conceal the deceit. Garfield's motivation was his obsessive, narcissistic desire to construct another perfect garden with Mrs. Drake's money on a Greek island that she has secretly purchased. Poirot hypothesises that Rowena Drake might have met a similar fate to the other women as Garfield would no longer have any use for her. Poirot's also intuits that the bond between Miranda and Garfield was a familial one: Judith Butler is not a widow, but rather the mother of Garfield's illegitimate daughter. Garfield's depraved willingness to murder his own daughter confirms the tremendous evil that Poirot has been able to uncover and defeat. 
Characters in "Hallowe'en Party"
Adults at Apple Trees party
Children and youths at party
Old Sins Cast Long Shadows
Investigators and allies
Woodleigh Common
Others
Book dedication
See also Agatha Christie's Book Dedications
To P. G. Wodehouse
whose books and stories have brightened my
life for many years. Also, to show my pleasure
in his having been kind enough to tell me
that he enjoys my books.
Literary significance and reception
Robert Weaver in the Toronto Daily Star of December 13, 1969 said, "Hallowe'en Party...is a disappointment, but with all her accomplishments Miss Christie can be forgiven some disappointments...Poirot seems weary and so does the book."
Robert Barnard: "Bobbing for apples turns serious when ghastly child is extinguished in the bucket. The plot of this late one is not too bad, but the telling is very poor: it is littered with loose ends, unrealised characters, and maintains only a marginal hold on the reader's interest. Much of it reads as if spoken into a tape-recorder and never read through afterward."
References or Allusions
References to other works
References to actual history, geography and current science
The first half of the novel contains several discussions in which anxiety is voiced about the Criminal Justice System in Great Britain. This in part reflects the abolition in 1965 of capital punishment for murder.
The novel reflects in many respects its time of publication at the end of the permissive sixties, but nowhere more so than when a character uses the word "lesbian" in Chapter 15.
Judith Butler mentions the story of Judith from the Apocypha, and also the story of Jael and Sisera from the Book of Judges. Miranda Butler knows this story and mentions "She laid butter before him on a lordly dish".
A drawing made by Michael Garfield of Miranda Butler, bares the inscription Iphigenia. In Greek mythology, king Agamemnon sacrificed his daughter Iphigenia to please the goddess Artemis so the Greek ships would reach the city of Troy.
Film, TV or theatrical adaptations
BBC Radio
The novel has been adapted by BBC Radio.
Graphic novel adaptation
Hallowe'en Party was released by HarperCollins as a graphic novel adaptation on November 3, 2008, adapted and illustrated by "Chandre" (ISBN 0-00-728054-8).
Agatha Christie's Poirot
The novel was adapted as part of the twelfth season of Agatha Christie's Poirot with David Suchet, with Zoë Wanamaker reprising her role as Ariadne Oliver. Guest stars include Deborah Findlay as Rowena Drake, Julian Rhind-Tutt as Michael Garfield, Amelia Bullmore as Judith Butler, and Fenella Woolgar as Elizabeth Whittaker. Charles Palmer (who also directed The Clocks for the series) directs this installment, with the screenplay being written by Mark Gatiss (who also wrote the screenplay for Cat Among the Pigeons; he also appeared as a guest star in the adaptation of Appointment with Death).
This version includes one of the anachronisms that were common in the series. One of the characters dismissively refers to Olga as "Olga Molotov or whatever". The name Molotov would have been familiar in the original setting of the novel in the late 1960's. But the series moved the story back to the mid 1930's, at which time Molotov would hardly have been known outside the USSR
Publication history
1969, Collins Crime Club (London), November 1969, Hardback, 256 pp
1969, Dodd Mead and Company (New York), 1969, Hardback, 248 pp
1970, Pocket Books (New York), Paperback, 185 pp
1972, Fontana Books (Imprint of HarperCollins), Paperback, 189 pp
1987, Ulverscroft Large-print Edition, Hardcover, ISBN 0-7089-1666-X
2009, HarperCollins; Facsimile edition, Hardcover: 256 pages, ISBN 978-0-00-731462-1
The novel was first serialised in the weekly magazine Woman's Own in seven abridged instalments from November 15 to December 27, 1969, illustrated with uncredited photographic montages.
In the US, the novel appeared in the December 1969 issue of Cosmopolitan magazine.
International titles
Czech: Viděla jsem vraždu (I Witnessed a Murder)
Catalan: Les pomes (The Apples)
Danish: Festen for de døde (The Eve of All Saint's Party)
Dutch: De versierde bezemsteel (The Decorated Broomstick)
Finnish: Kurpitsajuhla (The Pumpkin Party)
French: La fête du potiron (The Pumpkin Party) or Le Crime d'Halloween (The Halloween Crime)
German: Schneewittchen Party (Snow White Party)
Hungarian: Ellopott gyilkosság (Stolen Murder), Halloween és halál (Halloween and Death)
Italian: Poirot e la strage degli innocenti (Poirot and the Massacre of the Innocent)
Japanese: ハロウィンパーティー (Halloween Party)
Polish: Wigilia Wszystkich Świętych (The Eve of All Saints' Day)
Portuguese: Poirot e o encontro juvenil (Poirot and the Young People's Party)
Spanish: Las manzanas (The Apples)
Turkish: Elmayı Yılan Isırdı (The Snake Bit The Apple)
Norwegian: Barneselskapet (The Children's Party)