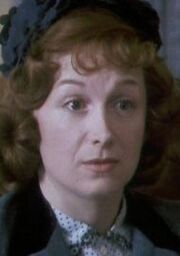 Griselda Clement is the wife of Leonard Clement, the vicar of St. Mary Mead. She is almost twenty years younger than her husband.
Her husband describes her as young, quite distractingly pretty and treating the parish as a joke arranged for her amusement. She herself admits she is a 'shocking' housekeeper but argues that matters only go worse when she tries. She is deeply in love with her much older husband because he is unable to resist her, though he disapproves of her, and because she never feels she quite knows him.
Before she met her husband, Griselda had known Lawrence Redding, and had been "rather in love with him". She did not tell her husband this at first, because she was afraid that he would disapprove of her being friends with Lawrence.
The Clements have an infant son named David in The Body in the Library and Miss Marple consults a son named Leonard for his father in 4.50 from Paddington. In The Mirror Crack'd from Side to Side it is implied that Griselda has been widowed and moved away from St. Mary Mead - though she sends a card every Christmas to Miss Marple. Young Leonard is said to have become an engineer.
In The Body in the Library, Griselda tells Miss Marple that all the books say a child should be left alone as much as possible, and so she tries not to bother with David too much. She authorizes Miss Marple to make a round collecting donations for the upcoming Sale of Work. After Miss Marple leaves, she plays with David on the hearthrug.
In the short story The Case of the Perfect Maid, Griselda is mentioned, although she does not appear in person. Miss Marple mentions "Mrs Clement's little boy", whom she says had been sucking a piece of peppermint rock, and must have put it into her bag.
Appearances
Portrayals
In the BBC's Miss Marple series, the part of Griselda Clement is played by Cheryl Campbell. She appears in The Murder at the Vicarage but not in The Body in the Library. In They do it with Mirrors, she helps Miss Marple get some evidence from Somerset House and calls Miss Marple with the information but she does not appear on screen.
Griselda Clements makes an appearance in the anime show The Perfect Maid, NHK's adaptation of The Case of the Perfect Maid. There she asks Miss Marple to help solicit participation for the village fete, which gives Miss Marple to call on the Skinners again and check out their "perfect" maid. The character of Griselda is voiced by Akiko Hiramatsu.