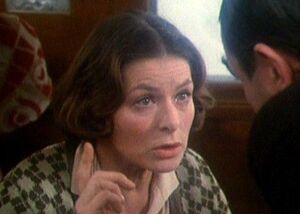 Greta Ohlsson is one of the main characters in Murder on the Orient Express.
Ohlsson has been portrayed on screen by various actresses, including Ingrid Bergman, Marie-Josée Croze, and Penélope Cruz.
Biography
In the current events of the story, Greta is 49 years old.
Greta Ohlsson was the family nurse of the Armstrong family. She was holding this position during the kidnapping of Daisy Armstrong.
The perpetrator of the crime, a gangster named Cassetti, was arrested and tried, but was acquitted on a technicality because of his wealth and influence. Linda Arden, the mother of Sonia Armstrong, gathered a group of interested parties for the purpose of avenging the crime and bringing the criminal to justice; Greta joined this group. Fellow group member Hector MacQueen succeeded in obtaining a position as secretary to Cassetti, who was using the alias of Samuel Edward Ratchett, a dealer in antiquities who traveled frequently to the Middle East. MacQueen, who was in control of his employer's schedule, was able to pick a suitable journey for them on the Orient Express, and 5 years later, the group travelled to Istanbul to join the same train.
On the Orient Express, Greta shared a second-class compartment with Mary Debenham, and occupied the lower berth, No. 10.
At the time of the boarding, Greta worked as a trained nurse, but had been working at a missionary near Istanbul, Turkey.
As part of his investigation into the death of Cassetti, Poirot interviewed Greta. This was done in French as Greta spoke French. She told Poirot that she was on the train on the way home to Sweden on holiday but first she would take a week or so to visit her sister and niblings at Lausanne, Switzerland. She did not at first admit that she was the nurse of the Armstrong household. When Helena Goldenberg spoke to Poirot about a nurse at the Armstrong household, she called the nurse "Stengelberg".
Poirot noted that Greta was the last person to see Ratchett alive. She had accidentally opened the door to Ratchett's compartment after dinner while trying to find Mrs Hubbard's compartment to get some aspirin. This was about 10.40 at night and Greta had seen Ratchett reading a book. She immediately apologized and withdrew from the compartment, but not before Ratchett laughed and said a few words. Mrs Hubbard had earlier told Poirot that Ratchett had actually remarked that Greta was "too old".
Portrayals
Murder on the Orient Express (1974)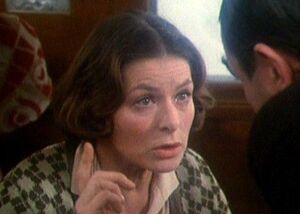 In the 1974 film, Greta Ohlsson was played by Ingrid Bergman, who went on to win the Oscar award for Best Supporting Actress for this role. Bergman had become famous for her role as Ilsa Lund in the 1942 film Casablanca. For Murder on the Orient Express, Bergman had to re-learn a Swedish accent as she had lost it doing 40 years of English language films.
Unlike in the other versions, Greta is introduced with the Armstrong kidnapping.
On the morning of April 17, 1930, gangster Lanfranco Cassetti climbs into Daisy's bedroom through the window, and knocks out Greta, whom he binds and gags to a chair. As he takes Daisy, she wakes up and once again tries to stop him, knocking herself to the floor in the process and failing to stop him from getting away. Later, Antonio Foscarelli finds her and frees her.
Greta is portrayed as a missionary on her way to Europe from Africa in order to raise funds for her mission.
In her interview, Greta tells Poirot that she is "born backwards" and that she works in a missionary after getting a heavenly vision to work with "little brown babies, born more backwards than me". To Poirot's question, she admitted that she had been in America, but only to give speeches to raise funds. Her speech was peppered liberally with religious allusions and she spoke with a strong Swedish accent. However, Poirot saw through all this.
He later noted that Greta's Swedish accent was exaggerated and ridiculous. She pretended not to have a good command in English but could understand difficult words like "emolument". She told Poirot that her mission work was at the town of Shimoga, but this was in India, not Africa.
In the murder scene, she receives the dagger from Mary Debenham, and is the fourth person to stab Ratchett, saying that it is for Daisy. She then hands the dagger to Countess Andrenyi, but only after saying "God forgive me," showing that she expressed great guilt for committing a major sin.
Murder on the Orient Express (2001)
Greta Ohlsson is not featured in the 2001 TV film which has a smaller cast.
Agatha Christie's Murder on the Orient Express (2006)
In the 2006 video game adaptation, Greta is voiced by Salli Saffioti, who also voices Hildegarde Schmidt in the video game.
According to her passport, her full name is Greta Sigrid Ohlson, and she was born 21 April 1885, in Stockholm, Sweden. Her occupation is stated as nurse.
She works as a matron at a mission school in Gemlik, Turkey, near Istanbul.
It is also revealed that she is a vegetarian, as she refuses to "eat the flesh of the animals".
Agatha Christie's Poirot: Murder on the Orient Express (2010)
In the 2010 adaptation, Greta is played by Marie-Josée Croze, and her portrayal is closer to the 1974 version than the original novel. Here she was portrayed as highly religious and had worked for 5 years as a missionary with children in India. As in the 1974 version, she had been to America on a speaking tour to raise funds.
Murder on the Orient Express (2017)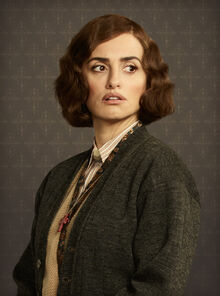 In the 2017 film, she is portrayed by Penélope Cruz.
Greta's name is changed from Greta Ohlsson to Pilar Estravados, and her nationality is changed from Swedish to Spanish.
Physical Description
In the novel, Greta is tall and middle-aged, with a bun of faded greying yellow hair, and a long, mild, amiable, sheep-themed face. She is very timid.
She wears glasses, and a plaid blouse and tweed skirt.
She also wears a pale mauve Jaeger wool dressing gown.
In the 2017 film, Pilar has dark brown chin-length hair and dark brown eyes.

Her main attire is a black cotton cardigan, a light-tan knit cardigan with brown floral trim, a beige-and-ivory pinstripe shirt, a crimson crucifix necklace, taupe cotton drill culottes, and brown leather boots.
Research notes
In the script for the 2017 film, Pilar recites part of one of her passages - Hebrews 9:27: "It is appointed for men to die once -- and after this comes judgement."
References