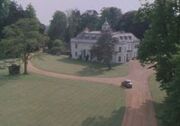 Gossington Hall is a large house in St. Mary Mead. It was the home of Colonel and Mrs. Bantry (they bought it when Colonel Bantry retired), and later Marina Gregg and Jason Rudd.
At one point a dead body was found in the library (The Body in the Library) and even later several people were killed there (The Mirror Crack'd from Side to Side).
After the death of her husband, Mrs. Bantry sold Gossington Hall and moved into the East Lodge. The first new owners tried to run it as a guest house, but it failed. The second owners were four people who tried to turn the large house into four flats, but they had quarrelled too much. After that it was bought by the Ministry of Health to be used for some obscure purpose, but in the end they sold it instead. By that time it was bought by Marina Gregg, but some village gossip claimed that it had been bought by Charlie Chaplin to live there with all his children.
Filming locations