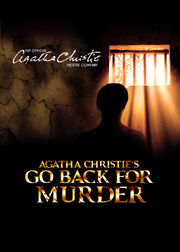 Go Back For Murder was a 1960 play written by Agatha Christie based on the Hercule Poirot novel Five Little Pigs.
The play omitted the character of Poirot. His function in the story is filled by a young lawyer named Justin Fogg, son of the lawyer who led Caroline Crale's defence. During the course of the play, it is revealed that Carla's fiancé is an obnoxious American who is strongly against her revisiting the case, and in the end, she leaves him for Fogg.
Go Back for Murder previewed in Edinburgh, Scotland. It later came to London's Duchess Theatre on March 23, 1960, but it lasted for only thirty-seven performances. The director was Hubert Gregg, with décor by Michael Weight.
Original London cast
2013 U.K. tour
Tour by the Agatha Christie Theatre Company. It plyed in Bath, Blackpool, Cambridge, Cardiff, Guildford, High Wycombe, Swindon, Wolverhampton, among other places.
Cast
Publication
Go Back for Murder was included in the 1978 Christie play collection, The Mousetrap and Other Plays.