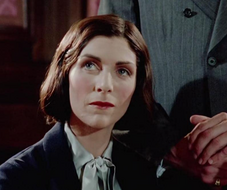 In the novel One, Two, Buckle My Shoe, Gerda Blunt (née Grant) was the first wife of Alistair Blunt.
When Gerda and Alistair married, she was an actress, acting in repertory. They married without letting his family know, as they were the strait-laced kind. She carried on acting after they were married, and was in the same company as Mabelle Sainsbury Seale, who knew about them.
According to Alistair, Gerda understood about his marriage to Rebecca Arnholt. He and Gerda grew to enjoy the thrill of their secret meetings. She had a repertoire of seven or eight characters, and would take on these roles to facilitate their meetings, such as being an American widow in Paris, or an artist travelling to Norway to paint.
Using the alias Mrs Albert Chapman, she invited Mabelle to her home. There Mabelle was bludgeoned to death. Gerda dressed as Mabelle and went to the dentist.
Under the name Helen Montressor, she posed as Alistair's Scottish cousin.
Portrayals
Gerda Blunt was portrayed by Joanna Phillips-Lane in the Agatha Christie's Poirot TV adaptation of the novel. Here she uses the name Helen Montressor but to pose as Blunt's secretary, not cousin.