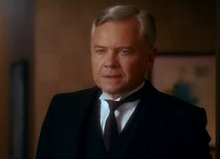 George is the valet of Hercule Poirot. Poirot usually addressed him as "Georges".
In The Under Dog, he was described as "as extremely English-looking person. Tall, cadaverous and unemotional."
In After the Funeral, the text also refers to him as "Georges". Among other things, George had the knack of knowing just what kind of drink would suit a person. With policemen, it was usually beer.
One of his previous employers was Lord Edward Frampton.
George had been in service for Poirot for almost all of his life, until Curtain. There, Poirot hired a new valet, Curtiss.
George was played by actor David Yelland in the television series Agatha Christie's Poirot. He appeared in the following episodes:
Community content is available under
CC-BY-SA
unless otherwise noted.