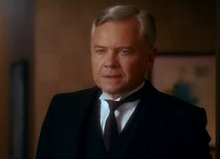 George is the valet of Hercule Poirot. Poirot usually addressed him as "Georges".
In 'The Under Dog', he was described as "as extremely English-looking person. Tall, cadaverous and unemotional."
In After the Funeral, the text also refers to him as "Georges". Among other things, George had the knack of knowing just what kind of drink would suit a person. With policemen, it was usually beer.
One of his previous employers was Lord Edward Frampton. It is implied in The Mystery of the Blue Train that George has only recently joined the employ of Poirot at the time of that adventure.
In Dumb Witness, George is described as being "immaculate and extremely English". George informs Poirot that Bella Tanios came to call on him. Poirot tells George that if Bella should come back, he is to tell her to wait. He also instructs George not to let Jacob Tanios in if he comes while Bella is there.
In One, Two, Buckle My Shoe, George serves Poirot a pot of chocolate and some sugar biscuits. He then stands "deferentially waiting", as he recognizes the signs that Poirot wants to discuss the case with him. It is said that Poirot finds George's comments "singularly helpful".
In Taken at the Flood, when Poirot gets a visit from Mrs Cloade, the Detective asks his valet to give his impression of the lady and notes that he always enjoys "the meticulous accuracy of George's descriptions".
George had been in service for Poirot for almost all of his life, until Curtain. There, Poirot hired a new valet, Curtiss.
Literary Appearances
Portrayals
George was played by actor David Yelland in the television series Agatha Christie's Poirot. He appeared in the following episodes: