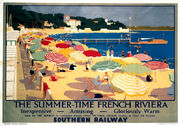 The French Riviera (or Côte d'Azur) is the Mediterranean coast of southeastern France. It includes famously glamorous beach resorts such as Saint-Tropez and Cannes, and the independent micro-state of Monaco. A health retreat in the 18th century, the area later attracted aristocrats, artists and the 1960s "jet set." Today it's an established holiday destination, with paths connecting many coastal villages and towns.
Agatha Christie used the Riviera as the setting for The Mystery of the Blue Train as well as parts of the stories collected in The Mysterious Mr. Quin.
Elinor Simmons, the mother of Patrick and Julia, lives in Cannes on the Riviera. (A Murder is Announced)
Kay Strange grew up at various hotels on the Riviera, with her mother. (Towards Zero)
Community content is available under
CC-BY-SA
unless otherwise noted.