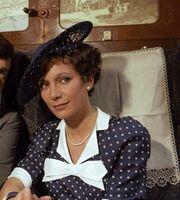 In the novel Why Didn't They Ask Evans?, Lady Frances "Frankie" Derwent is a plucky young woman. She is a friend of Bobby Jones. They solve a mystery together. She is the daughter of Lord Marchington, and has two brothers.
Lady Frances is also related to the Draycotts, acquaintances of Sylvia Bassington-ffrench.
Frankie Derwent stages a fake car crash near Merroway Court so that she could investigate the family living there.
Les Petits Meurtres d'Agatha Christie
In Pourquoi pas Martin?, the France Televisions adaptation of the novel for the TV series Les Petits Meurtres d'Agatha Christie, Frankie's parallel character is Alice Avril.