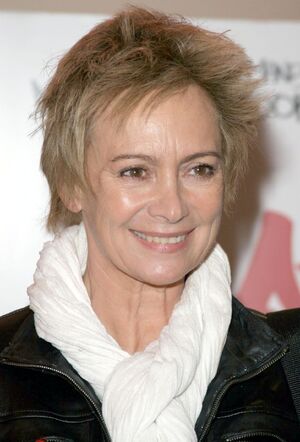 Francesca Annis (born 14 May 1945) is an English actress, known for her film and television appearances in such series as Reckless (1998), Wives and Daughters (1999), Cranford (2007), and Deceit (2000).
Early life and education
Annis was born in Kensington, London in 1945 to an English father, Lester William Anthony Annis (1914–2001) and a Brazilian-French mother, Mariquita Purcell (1913–2009). She has two brothers, Quenton D. and Tony P. Annis. Her family moved to Brazil when Annis was a year old, spending six years there before returning to England when she was 7. There she was educated at a convent school. She trained as a ballet dancer and then studied drama at the Corona Theatre School.
Career
Francesca Annis began acting professionally in her teens, and made her film debut in The Cat Gang (1959). In 1967 she played Estella in a television adaptation of Great Expectations. She also presented children's television programmes.
Annis gained attention for her performance as Lady Macbeth in Roman Polanski's film version of Macbeth (1971) in which she performs the sleepwalking soliloquy in the nude. The critic Kenneth Tynan was present when the scene was shot:
Francesca does it very sportingly and with no fuss ... though of course the set is closed, great curtains are drawn around the acting area ... and the wardrobe mistress rushes to cover Francesca with a dressing gown the instant Roman says, 'Cut'.
Annis continued to be a leading television actress throughout the 1970s, 1980s and 1990s, appearing in series such as Edward the Seventh (1975) as Lillie Langtry, a role she reprised in Lillie (1978); Madame Bovary (1975); and Parnell and the Englishwoman (1991), in which she played Kitty O'Shea; as well as the miniseries Reckless (1997) and its 1998 sequel. In autumn 2007 Annis co-starred with Michael Gambon and Judi Dench as Lady Ludlow (an aristocrat opposed to the education of the lower classes) in the BBC1 costume-drama series Cranford.
Her films have included Krull (1983) and Dune (1984). She appeared as 'Tuppence' with James Warwick as Tommy in Agatha Christie's Partners in Crime stories. She also appeared in Onassis: The Richest Man in the World, in which she played Jacqueline Kennedy.
In addition to having become a well-known presence on screen, Annis has enjoyed a successful stage career, playing many leading roles with the Royal Shakespeare Company, starting with playing Juliet in Romeo and Juliet in 1977 alongside Ian McKellen, she even acted in Luciana in Trevor Nunn's musical version of The Comedy of Errors. At the National Theatre in 1981 she played Natalya Petrovna in Peter Gill's production of Ivan Turgenev's A Month in the Country. At the Comedy Theatre in September 2005, Annis starred in Epitaph for George Dillon with Joseph Fiennes. Annis returned to the stage in April 2009 to star as Mrs. Conway in Rupert Goold's National Theatre revival of J. B. Priestley's Time and the Conways.
Personal life
Annis has three children from a long-term relationship with actor Patrick Wiseman that began in 1976. Beginning in 1994/1995, Annis was in a long relationship with actor Ralph Fiennes, who left and later divorced his wife, Alex Kingston, to be with Annis. They met while performing Hamlet, in which Annis portrayed Gertrude with Fiennes playing Hamlet. On 7 February 2006, Fiennes and Annis announced their separation after 11 years together.
Films
The Cat Gang (1959)
Carry On Teacher (1959)
No Kidding (1960)
The Young Jacobites (1960)
His and Hers (1961)
Cleopatra (1963)
West 11 (1963)
Murder Most Foul (1964)
Saturday Night Out (1964)
Crooks in Cloisters (1964)
The Eyes of Annie Jones (1964)
Flipper's New Adventure (1964)
The Pleasure Girls (1965)
Run with the Wind (1966)
The Sky Pirate (1970)
The Walking Stick (1970)
Macbeth (1971)
Penny Gold (1973)
Krull (1983)
Dune (1984)
Under The Cherry Moon (1986)
El río de oro (1986)
Onassis: The Richest Man in the World (1988)
The Debt Collector (1999)
Copenhagen (2002)
Revolver (2005)
The Libertine (2004) as Rochester's mother
Shifty (2008) as Valerie
The Little House (2010) as Elizabeth
Television
Lillie (1978)
Why Didn't They Ask Evans? (1980)
Reckless (1997)
Reckless: The Sequel (1998)
Wives and Daughters (1999)
Cranford (2007) as Lady Ludlow
Return to Cranford (2009) as Lady Ludlow
Loving Miss Hatto (2012) as Joyce Hatto
Awards & nominations
| Year | Award | Category | Nominated work | Result |
| --- | --- | --- | --- | --- |
| 1974 | BAFTA TV Award | Best Actress | A Pin to See the Peepshow | Nominated |
| 1976 | BAFTA TV Award | Best Actress | Madame Bovary | Nominated |
| 1977 | Olivier Award | Best Actress in a Revival | Troilus and Cressida | Nominated |
| 1979 | BAFTA TV Award | Best Actress | Lillie | Won |
| 1998 | BAFTA TV Award | Best Actress | Reckless | Nominated |
| 1999 | BAFTA TV Award | Best Actress | Reckless | Nominated |
| 2000 | BAFTA TV Award | Best Actress | Wives and Daughters | Nominated |
Community content is available under
CC-BY-SA
unless otherwise noted.