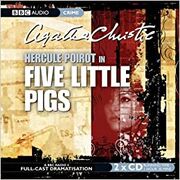 Carla Lemarchant was just five when her mother Caroline was accused and convicted of poisoning her father - the famous painter Amyas Crale - and she dies in jail. Carla is sent to live with her uncle and aunt in Canada. Only when she turns 21, does she discover her family history in a letter from Caroline denying her husband's murder. But if Carla's mother didn't kill Amyas Crale, who did?
Desperate to find out the truth, Carla seeks the help of Hercule Poirot. But this is a formidable challenge even for the remarkable Belgian detective - especially as he's nothing to go on - except five suspects who fit strangely into the pattern of a children's nursery rhyme...   
Dramatist: Michael Bakewell
Director: Enyd Williams
First heard on BBC Radio 4 in 1994.
Cast