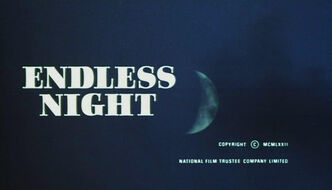 Endless Night is a 1972 British crime film directed by Sidney Gilliat and starring Hayley Mills, Britt Ekland, Per Oscarsson, Hywel Bennett and George Sanders. It is based on the novel Endless Night by Agatha Christie.
Plot
Michael Rogers (Bennett), a young drifter currently employed as a chauffeur, has a chance meeting with the lovely Ellie Thomsen (Mills). He dreams of building a magnificent house on a particular spot of land along the Devon coast. Unknown to him, she is actually a wealthy heiress and can make his dream come true. With the help of her efficient German companion, Greta (Ekland), they marry and build a memorable home designed by noted architect Santonix (Oscarsson), much to the disapproval of Ellie's family, who try to buy off Michael.
However, the land the couple purchased is known as "Gypsy's Acre" and is said to carry a curse. Mysterious accidents pile up, a self-proclaimed gypsy haunts the grounds, and after a midnight accident, Greta moves in with the couple to nurse Ellie back to health, to the resentment of Michael.
A further equestrian accident results in the death of Ellie, and Michael is shattered. With the aid of her lawyer "Uncle" Andrew (Sanders) and Greta, Michael pulls together. But he remains haunted by ghostly images of Ellie and a devious murder plot--and another death--are revealed in the finale.
Cast
Hayley Mills as Fenella 'Ellie' Thomsen
Hywel Bennett as Michael Rogers
Britt Ekland as Greta
George Sanders as Andrew Lippincott
David Bauer as Uncle Frank
Peter Bowles as Reuben Brown
Patience Collier as Miss Townsend
Windsor Davies as Sergeant Reene
Mischa de la Motte as Maynard
Helen Horton as Aunt Beth
Lois Maxwell as Cora Walker Brown
Aubrey Richards as Dr. Philpott
Ann Way as Mrs. Philpott
Production
Shooting locations included Christie's Auction House, Hertfordshire, Middlesex, as well as the West Country and Albergo San Pietro, Positano, Italy. The Philpotts' estate (Mike and Ellie's neighbors) was filmed at Grim's Dyke.
The score was by Bernard Hermann. Ellie's singing in the film was dubbed by Shirley Jones.
Reception
The film received mixed reviews. Although reasonably faithful to the novel, it is "An example of the sort of thing Christie was writing in her later years: moody psychological studies very different from, and not so much fun as, her early thrillers." Contemporary critics have noted "Nice performances all around, with special admiration for Oscarsson's role as the dying architect."
Christie herself was displeased by the "lacklustre" adaptation of one of her favorite novels, although she had been initially pleased by the choice of Director-writer and cast. Further, she disliked the (admittedly brief) erotic nudity by Ekland in the film's final sequences.
After an unsuccessful run in Britain, UA did not release the film in the United States, although there were runs in Denmark and Finland in 1973.
Community content is available under
CC-BY-SA
unless otherwise noted.