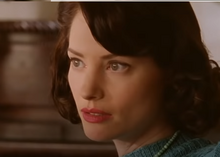 Emma Jocelyn Stamfordis is the daughter of Dmitri and Sonia, and the twin sister of Pip. She was born in 1922.
Dmitri and Sonia split up about three years after Pip and Emma were born, and they split the children up as well. Emma went with her father. She was educated at various convents, where her father would pay the first term, and then disappear, leaving her in the care of the nuns for a few years. They had some good times together, moving in cosmopolitan society, but they were separated during the war. She was with the French Resistance for eighteen months.
Emma met Patrick Simmons at a party, and he agreed to bring her to Little Paddocks with him, saying that she was his sister, Julia. Meanwhile, the real Julia was pursuing an acting career in Perth, Scotland. Emma knew that Miss Blacklock would inherit Randall Goedler's fortune when his wife passed away, and she had hoped to get to know Miss Blacklock, and get a small allowance from her.
At the end of the novel, Emma and her sister inherit the Goedler fortune. Patrick was attracted to her, and expressed a hope of continuing his relationship with her. Emma turns him down, saying that he is a "soft young man who would like a rich wife".
Community content is available under
CC-BY-SA
unless otherwise noted.