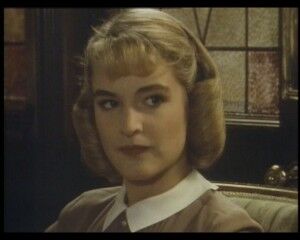 The Honourable Elvira Blake was the daughter of Lord Coniston and Bess Sedgwick. She appears as an attempted murder victim in "At Bertram's Hotel", but ends up being discovered as the murderer herself.
Elvira is about nineteen or twenty, slim and blond, and enjoys playing the part of the damsel in distress. She is actually clever and smart, but unfortunately, her resourceful mind eventually turned to crime for stimulation.
Spoilers Ahead.
Book Biography
Elvira appears at Bertram's Hotel with her Guardian Colonel Luscombe. Her late father Lord Corniston left her a fortune in his will since he didn't like the cousin who would inherit the title. She is young not yet 21 at least when she was a baby her mother abandoned her and since then Luscombe has cared for her, he sees her only as the child she was not the woman she is. She went to Finishing School in Italy where she fell in love with Ladislaus Malinowski a Racing Driver whom she knows will only marry her for her money.
She comes to Bertram's and begins asking questions about her inheritance to her Uncle, especially who inherits if she dies, he reveals that if she died before coming of age her Mother does, but if she is married her husband will. She suggests that she is thinking of marriage and that she was 'poisoned' in Italy.
She also discovers that her estranged Mother Bess is also at the hotel, she does try to meet her and Bess refuses to say she is a poor Mother and so she left her with a comfortable secure life.
While this happens she meets up with Malinowski at a cafe with Jane Marple witnessing them and seeing that Elvira and the unsuitable man are acting like lovers despite her claiming at yesterday's dinner not knowing him when her Uncle questioned her. While in the library she witnesses her Mother talking to Micky Gorman, who was the Footman Bess eloped with as a young lady, Elvira knows the story well that the marriage was void but hearing Mickey talk makes her realise that the marriage might be real.
While at her friend's Bridget's house she asks Bridget to make a phone call as her Mother to her Uncle that Elvira was seeing a doctor for a sudden illness, instead she goes to Ireland going to verify her Mother and Gorman's claims and was it true. She feared that if her parents' marriage was known to be invalid, she would lose her inheritance and with it Malinowski.
She went back to Bertram's on a foggy night she shoots Mickey Gorman with Malinowski's gun which she claims was aimed at her and Gorman saved her. However when Bess is alerted who the victim was and who was the aimed was, she takes Elvira to her room, as they spend a day together Elvira tells Bess what she did and so she takes the blame and after confessing to Inspector Davy and Miss Marple, Bess escapes and drives to her death.
Elvira is given comfort from everyone in the Hotel, but when she leaves Miss Marple reveals the truth to Davy who vows to arrest her especially since Marple witnessed the conversation in the library and unknown to Elvira the murder was pointless as despite the marriage was illegal, she would have still received her inheritance as her Father's Will would never have been contested.
1987 Version
In the BBC version of this story, Elvira is mostly the same but she does meet with her Mother and it's clearly that Elvira craves the affection of her love. She is pretty but plain. In the end, she doesn't get away with the murder as Marple reveals Elvira's diary detailing the plans, she confesses the truth but begs Davy not to reveal the truth as she would lose her fiancée Malinowski and it doesn't matter she goes with the police.
She was played by Helena Michell.
2007 Version
In the ITV version featured in the Agatha Christie's Marple series, Elvira looks a lot like her Mother, but the ending and motive is completely different, her romance with Malinowski is broken off after he finds out her Mother is Bess, she does confront her Mother with this but this forgotten about. She also spent a great deal of her childhood at Bertram's which helped her with the crime.
After Bess falsely confesses to the crimes, Marple reveals that Elvira is devoted to Brigit Milford (the novel's Bridget) her friend, who after swimming in Polio infected water lost the use of her right hand. For this reason, she had to make sure that she received her money, however, she found out about her Mother's secret from a Blackmailing Maid Tilly Rice who is murdered after Gorman's death, her body is found on the roof.
During the murder of Gorman, Brigit caused the lights to surge by running the bath to flood, so that the hotel guests were moved to the Saloon and had a view of the street, then Brigit went out dressed in a copy of dress and veil, Elvira fired several missed shots at her friend, the guests and Mickey came towards her Elvira fired the fatal shot. After this, Brigit fired several shots at the unseen sniper and then went to the basement where Elvira having used the staff stairs dressed as a maid then carried on firing in front of the guests.
The mistake was, in the fact, that Brigit fired with her left hand and when Elvira swapped she fired with her right hand.
She was played by Emily Beecham