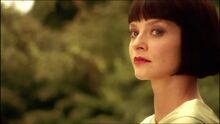 In the novel Five Little Pigs, Elsa Greer (Lady Elsa Dittisham by marriage) ("had roast beef") is a thirty-six year old spoiled society lady. She is the only daughter of a wealthy Yorkshire manufacturer. Elsa is married to Lord Dittisham.
When she was twenty years old, he modelled for Amyas Crale, and he became smitten with her. Elsa Greer knew that Amyas didn't paint normal people, but she remarked how "she always got what she wanted".
Her estate was described as "the type of house that shows money everywhere; taste, not so much".
Role in the novel (warning, may contain spoilers)
Elsa believed Amyas was going to leave his wife Caroline and marry her instead. When he told her he had no such plans, she became furious. She later proceeded to steal coniine from Meredith Blake's laboratory and poison Amyas' beer. She was exposed sixteen years later by Poirot. However he lets Elsa go.
Portrayals
In the Agatha Christie's Poirot episode adapted from Five Little Pigs, she was portrayed by actress Julie Cox.