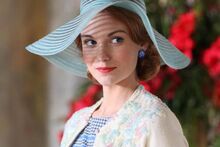 In the novel Endless Night, Fenella 'Ellie' Rogers (née Guteman) was a rich American heiress, who married working class Mike Rogers. Together they bought Gipsy's Acre. She liked horseback riding with her friend Claudia. Ellie's huge fortune was administered by Andrew Lipincott and Stanford Lloyd.
She was a friend of Greta Andersen.
Role in the novel (warning; contains several spoilers)
Ellie was scared by Esther Lee, a local gypsy, to not buy Gipsy's Acre. However, Mike and Ellie decide to buy the household anyway. It is then discovered that it was Mike who paid Esther to scare his wife.
Ellie died from cyanide poisoning when she was horseback riding. The inquirers declared that her death was due to natural causes. One week later, though, Ellie's friend Claudia Hardcastle dies in the same way. It is later revealed that it was Mike who had poisoned her with the friend of Greta. After Greta dies from strangulation, Mike is arrested. For Claudia's death, the smell of bitter almonds (to be attributed to cyanide) was still present when the body was found which led the investigating officer to suspect Mike.
Portrayals
In Endless Night's 1972 movie adaptation, Ellie was portrayed by Hayley Mills.
In the 2013 Agatha Christie's Marple episode based off Endless Night, Ellie was portrayed by Joanna Vanderham. In the original novel, Miss Marple does not appear.