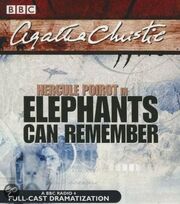 Agatha Christie's novel Elephants Can Remember was adapted for radio by BBC Radio 4 in 2006 with John Moffatt as Hercule Poirot and Julia McKenzie as Ariadne Oliver. The one and a half hour episode was directed by Enyd Williams.
Poirot probes a double-suicide in the past, threatening a young couple's future.
Trevor Cuthbertson as Chief Superintendent Garroway
Rachel Bavldge as Celia
Ifan Meredith as Desmond
Paula Jacobs as Mrs Burton-Cox
Jane Wenham as Julia
Barbara Atkinson as Nanny
Elizabeth Proud as Mrs Buckle
Jill Balcon as Mrs Rosentelle
Alexandra Bastedo as Zelie
Stephen Thorne as Mr. Goby
Patrick Garland as George
Community content is available under
CC-BY-SA
unless otherwise noted.