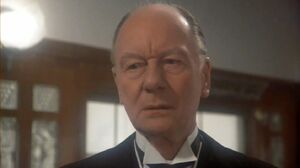 Edward Henry Masterman[1] is one of the main characters in Murder on the Orient Express.
Masterman has been played on screen by various actors, including Sir John Gielgud, Hugh Bonneville, and Sir Derek Jacobi.
Biography
Edward Masterman was the valet of Samuel Edward Ratchett during the events in the book. He was aged 39 and resided at 21 Friar Street, Clerkenwell in London.[2]
During the investigations into the murder of Cassetti on the Orient Express, Masterman at first told Poirot that he had never been to America. Later, he admitted that he had formerly been a soldier in the British Army and served as the batman of Colonel Armstrong in New York. Some time after the First World War, he joined Armstrong's household as his valet. He was probably in service at the time of the kidnapping of Colonel Armstrong's daughter, Daisy Armstrong.[3]
Thereafter, Masterman worked with Sir Henry Tomlinson in Grosvenor Square, a garden square in Mayfair, in the West End of London, England. Some time later, Tomlinson went to East Africa and no longer required Masterman's services.[4]
After the kidnap and murder of Daisy Armstrong, the perpetrator Cassetti was arrested and tried but got off on a technicality because of his wealth and influence. Linda Arden, her grandmother, gathered a group of interested parties for the purpose of avenging the crime and bringing the criminal to justice. Masterman joined the group. As past of the plan (first proposed by fellow group member Antonio Foscarelli) Mastermind managed to gain employment as the valet to Cassetti, who by then had adopted the alias of Samuel Edward Ratchett.
The Orient Express
Masterman boarded the Orient Express with his employer at Istanbul. By this time, he had already been working for Ratchett for some 9 months.[5]
On the night of Ratchett's murder, Masterman brought a "sleeping draught" to his employer and then left. He did not actually see Ratchett drink it.
The next morning he tapped on Ratchett's door but did not get an answer. Thereafter, the conductor Pierre Michel and the chef de train opened the door with a passkey, broke the chain and entered the cabin to discover Ratchett's body.
Portrayals
Murder on the Orient Express (1974)
In the 1974 film, Masterman is played by Sir John Gielgud.
In this adaptation, Masterman's name is changed to Beddoes. Like in the original story, he was the valet of Samuel Edward Ratchett. He told Poirot that he had formerly been a private soldier in the British army and was based in Troon in Scotland. Poirot later used this to link him to the family of Colonel Armstrong who was, in the film, from a Scottish regiment. Poirot deduced that Beddoes was the Colonel's batman.
Beddoes also had a contusion on the back of his neck. He told Poirot this was the result of a fight in the soldier's mess about the quality of the "spotted dick" pudding. Poirot surmised that, in fact, he had sustained this injury during the kidnapping of Daisy Armstrong. He had then been the valet of Colonel Armstrong at that time and had been knocked unconscious during the crime. This injury does not occur in the book.
In the murder scene, Beddoes receives the dagger from Hector MacQueen, and stabs Ratchett, saying it's for his gentleman. He is the eleventh person to stab Ratchett. He then hands the dagger to Cyrus Hardman.
Murder on the Orient Express (2001)
Masterman is not featured in the 2001 TV movie which has a smaller cast.
Agatha Christie's Murder on the Orient Express (2006)
Agatha Christie's Murder on the Orient Express video game (2006)
In the 2006 video game adaptation, Masterman is voiced by Nolan North. He occupies room 1-2 on the Calais coach with Foscarelli.
According to his passport, his full name is Edward Henry Masterman, which is the same as in the novel. His date of birth is 17 May 1883. His occupation is valet. His address is given as 21 Friar Street, Clerkenwell. This is the same address given in the novel.
Agatha Christie's Poirot: Murder on the Orient Express (2010)
In this adaptation, Masterman is played by Hugh Bonneville and has the nickname "Teddy", likely a diminutive for Edward.
Murder on the Orient Express (2017)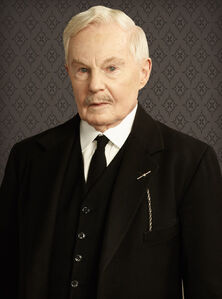 In the 2017 film, Masterman is played by Sir Derek Jacobi.
In this film, Masterman was born in 1874.
Masterman is introduced in the train station restaurant. Hector MacQueen aproches him, and asks him if he has packed everything for the trip. Masterman says that he doesn't make mistakes.
He is next seen on the train, following Edward Ratchett. Ratchett tells him to fetch his dictaphone, then have the conductors make the bed, then tell MacQueen to bring the receipts from the sale they had in Milan: Ratchett forged a set of Oriental carpets and sold them for high prices, effectively conning the buyers out of thousands of dollars.
Masterman later knocks on Ratchett's door to bring him his coffee. Brandishing a letter, Ratchett confronts Masterman, asking who left it there. Masterman replies that he cannot say, and walks off. He greets Mrs. Hubbard as he walks back to his compartment.
Masterman is later seen in his compartment after the train gets hit and derailed by an avalanche. Biniamino Marquez, who was in the berth below him, gets flung out out of the compartment by the impact of the crash. Masterman asks if Marquez is alright, and he says that he is fine before repacking his suitcase and getting back into bed.
The next morning, Masterman walks to Ratchett's compartment, bringing a tray of coffee, cream, butter, ice, and a croissant. He knocks on Ratchett's door, but Ratchett does not respond. Poirot then meets Masterman and, feeling cold air running through the room, tells Masterman to get Xavier Bouc and Doctor Arbuthnot.
By the time Masterman returns with the two men, all of them are shocked to discover Ratchett's dead body, with 12 stab wounds in the chest.
During Masterman's interview, Masterman says that he has been to America once, as an experiment to see if he would like it or not. He went to Boston, and then went straight back to London on discovering that he did not like it.
When Poirot notices Masterman groaning surpressedly from sharp pains in his jaw, Masterman explains that he has a toothache, and Ratchett booked an extraction for him in London. Poirot correctly guesses that it is not just a toothache that is bothering Masterman.
It is revealed that Masterman is suffering from terminal thyroid cancer, which had also spread to his stomach. The same disease killed his father at 5 years younger than Masterman's current age. Masterman himself only has months left to live.
Although Masterman was initally afraid when he went to a doctor for the diagnosis, he wasn't when he recieved the diagnosis, and so he speaks his mind now. When Masterman prepares to leave, Poirot says to Masterman, "I'm sorry about the toothache."
Masterman is later seen with the others during Poirot's revelation scene. As Poirot confirms that every passenger had some connection to the Armstrong Family - as Ratchett was a gangster responsible for kidnapping and murdering a special member of the family - Masterman says that Poirot has no need to ask questions about him, as he admits that during the war, he served as the batman to John Armstrong - a renowned British pilot and Colonel - and later on, his valet in New York, and says that Armstrong was as fine a man as God himself could have ever made.
Poirot reveals that every one of the passengers is responsible for murdering Ratchett so that they could avenge the deaths of Daisy Armstrong, Colonel Armstrong, Sonia Armstong, and Susanne Michel. Masterman was the 6th person to stab Ratchett.
In addition, Poirot presents Hardman's police revolver to the table and says that if they want to go free without punishment, they should kill him, as he is bound by the law and cannot lie. Linda Arden - the mastermind behind Ratchett's murder - takes the revolver and aims it at Poirot, but instead tries to kill herself, only to fail; Poirot had previously emptied the gun to test them all.
Masterman is last seen consoling Gerhard Hardman.
Masterman dies in London from the cancer.
Physical Appearance
In the novel, Masterman is a rather small-sized man, who is pale, with an expressionless, disapproving face. He has a cold, unsympathetic persona, but has some warmth to his character.
Despite being 39 years old in the novel, most of the adaptations portray him as an old man.
In the 1974 film, Beddoes has balding grey hair in a receding hairline, grey-blue eyes, and circles under his eyes.

He wears a black single-breasted wool jacket, a black wool waistcoat with white piping, a white wing-collar shirt, a black club tie, black-and-white pinstriped wool slacks, and black cap-toe oxfords.

In the 2006 video game, Masterman has the same appearance and outfit as he does in the 1974 film. He is 51 years old.
In the 2017 film, Masterman is 60 years old, and has white hair, grey eyes, and a grey moustache. He speaks in an East London accent (aka a Cockney Accent).

He wears a black single-breasted 3-piece suit, a white point collar shirt, a black tie, a silver chain-pin on his left lapel, black pinstripe slacks, and black oxford shoes.
He also wears a black bowler hat and black leather gloves in the exterior scenes.
In other scenes, he wears a black tuxedo with peaked lapels, a white wing-collar shirt, a black bow tie, black slacks, and black oxford shoes.
His nighttime attire consists of a white button-down shirt with black pinstripes, and matching pants.
Research notes
Masterman's nickname is Teddy.
There is a real 21 Friar Street but this is in the City of London and not in Clerkenwell.
In the script for the 1974 film, Poirot offers Masterman/Beddoes a Gauloise cigarette, but Masterman/Beddoes says that he only smokes Players No. 3 cigarettes, when he's off-duty.
In both the 1974 film and 2017 film, Masterman/Beddoes is played by an actor who was knighted.

In the 1974 film, Beddoes is played by John Gielgud, who was knighted 4 times: most notably in 1977 as Companion of Order, and in 1994 as Order of Merit.
In the 2017 film, Masterman is played by Derek Jacobi, who was knighted 3 times: most notably in 1985 as Commander of the Order of the British Empire.

Sir Derek Jacobi, who plays Masterman in the 2017 film, was the mentor and acting instructor of Kenneth Branagh, who plays alongside him as Hercule Poirot.
In any of the adaptations of Murder on the Orient Express, Masterman is the only character to die shortly after the murder, in the 2017 film. He dies in London in 1936 from thyroid cancer.
Kenneth Branagh, who directed the 2017 film, offered Jacobi the part of Masterman; Jacobi took it without hesitation. At Branagh's behest, Jacobi also played Masterman with an East London accent, also known as a Cockney accent.
Derek Jacobi also starred in The Secret of NIMH. Coincidentally, this movie also starred Peter Strauss, who played Ratchett in the 2001 TV version of Murder on the Orient Express.
References