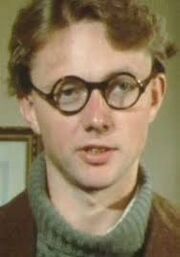 In the novel A Murder is Announced, Edmund Swettenham is a young man who lives in Chipping Cleghorn with his mother. He had an uncle Simon used to breed Manchester Terriers.
He is in love with Phillipa Haymes, and asked her to marry him. She refused at first. However, they do marry in the end, after the crimes are solved.
He is a writer, and wrote a play that he described as "a roaring farce in three acts", called Elephants Do Forget.
Portrayals
In the BBC 1985 adaptation of the novel which formed part of the Miss Marple series, Edmund Swettenham is played by Matthew Solon.
In the ITV 2005 adaptation of the novel, Edmund Swettenham is played by Christian Coulson. He objects to his mother's interest in Colonel Easterbrook and even denounces him to the police, telling them that the gun which was used to shoot Rudi Scherz belonged to the Colonel. By the end of the show, he appears to have come to accept it as he is seen walking off with his mother and Easterbrook together. In this adaptation, he does not show any romantic interest in Phillipa Maymes.
Community content is available under
CC-BY-SA
unless otherwise noted.