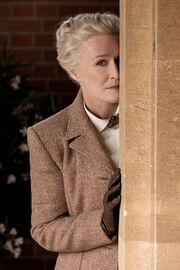 In the novel Crooked House, Edith de Haviland was the former sister-in-law of Aristide Leonides, since her sister had been his first wife. She lived at Three Gables with Aristide and his family.
Edith is a spinster, she is repressed and bitter in behaviour, she spends her time on the estate shooting pests, she came to Three Gables to raise her sister's children with Aristide. She is now 70 and personally hated the way Aristide controls his family.
She takes her great niece Josephine out in the car for a ice cream soda, however she drives off a cliff killing both of them. In a letter to the police she took responsibility for the murders that had been committed. However a second letter for the family reveals that she found Josephine's notebook in a dog kennel and killed them both to protect the little girl from jail or mental hospitals.
American actress Glenn Close portrayed Edith in the 2017 adaptation of Crooked House.
Community content is available under
CC-BY-SA
unless otherwise noted.