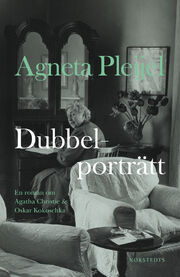 Dubbelporträtt: En roman om Agatha Christie och Oskar Kokoschka (Double portrait: A novel about Agatha Christie and Oskar Kokoschka) is a 2020 novel by Swedish author Agneta Pleijel. It a fictional account of might have happened when the artist Oskar Kokoschka painted a portrait of Agatha Christie in 1969.
Summary
A young man walks into a fashionable London art gallery, and asks the gallery owner if he can get in contact with the artist Oskar Kokoschka. The young man wants the artist to paint a portrait of his grandmother, for her 80th birthday. The owner is rather sceptical, but promises to contact the painter.
Reluctantly he agrees to paint the portrait, as does Agatha to pose for it. During the six sittings they tell each other about their past.