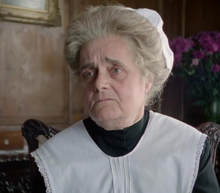 In the novel The Mysterious Affair at Styles, Dorcas is a long serving maid at Styles Court. Her employer, Emily Inglethorp, dies in the night. Dorcas wasn't very fond of foreigners but prefers Poirot over the British Police as she doesn't want a scandal over Emily's death, despite her affections for her employer. She is one of the two maids of the Styles household along with Annie, and it is her who tells her about the three gardeners of Styles Court: Manning, William, and a newly hired one.
Solution (spoilers ahead)
Dorcas tells Poirot that Cynthia Murdoch was very good at disguising, and unknowingly leads him to where a piece of fake beard is. Before dying, Emily was accusing Alfred Inglethorp (who had a black beard) of having killed her, but Poirot deduced that the beard was used to deceive the victim and trick her into believing the murderer was her husband.
Portrayals
In Agatha Christie's Poirot, Dorcas was portrayed by Lala Lloyd.