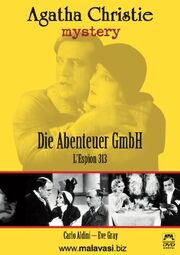 Die Abenteurer G.m.b.H. (English translation of the title: The Adventures Inc.) is a German silent film adaptation of the novel The Secret Adversary, made in 1929. Directed by Fred Sauer and adapted by Jane Bess.
Cast
Carlo Aldini as Pierre Lafitte
Hilda Bayley as Rita van den Meer
Eve Gray as Lucienne Fereoni
Eberhard Leithoff as George Finné
Elfriede Borodin as Jeanette Finné - seine Schwester/his sister
Shayle Gardner as Julius Vardier - Staatssekretär des Innern
Hans Mierendorff as Marglin - Chef des Geheimdienstes
John Mylong (as Jack Mylong-Münz) as Boris
Valy Arnheim as Wittington
Mikhail Rasumny
Community content is available under
CC-BY-SA
unless otherwise noted.