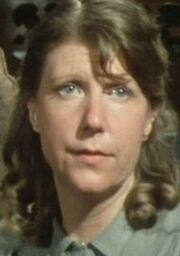 Diana "Bunch" Harmon is married to Julian Harmon, the vicar of Chipping Cleghorn. She was given the nickname "Bunch" because of the roundness of her form and face. They have two children, Edward and Susan.
He father had been the vicar of St. Mary Mead, and her mother had been an old friend of Jane Marple.
Appearances
Portrayals
In the BBC 1985 adaptation of the novel which formed part of the Miss Marple series, Mrs Harmon is played by Vivienne Moore. In this adaptation, her first name is not given, and the nickname Bunch is not used.
This character does not appear in the ITV 2005 adaptation of the novel.