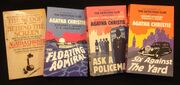 The Detection Club was formed in 1930 by a group of British crime fiction writers. Among the founding members were Agatha Christie, Dorothy L. Sayers, Ronald Knox, Freeman Wills Crofts, Arthur Morrison, Hugh Walpole, John Rhode, Jessie Rickard, Baroness Orczy, R. Austin Freeman, G. D. H. Cole, Margaret Cole, E.C. Bentley, Henry Wade, and H. C. Bailey. Anthony Berkeley Cox was instrumental in setting up the club. The first president of the club was G. K. Chesterton.
Christie's literary character Ariadne Oliver, herself a crime fiction writer, is a member of the Detection Club.
Presidents
Agatha Christie was the president of the club from 1957 to 1976. Between 1957 and 1963 she shared the presidency with Lord Gorell, on her own request.
The oath
There was a fanciful initiation ritual with an oath probably written by either Chesterton or Sayers, and the club held regular dinner meetings in London.
"Do you promise that your detectives shall well and truly detect the crimes presented to them using those wits which it may please you to bestow upon them and not placing reliance on nor making use of Divine Revelation, Feminine Intuition, Mumbo Jumbo, Jiggery-Pokery, Coincidence, or Act of God?"
Publications
See also